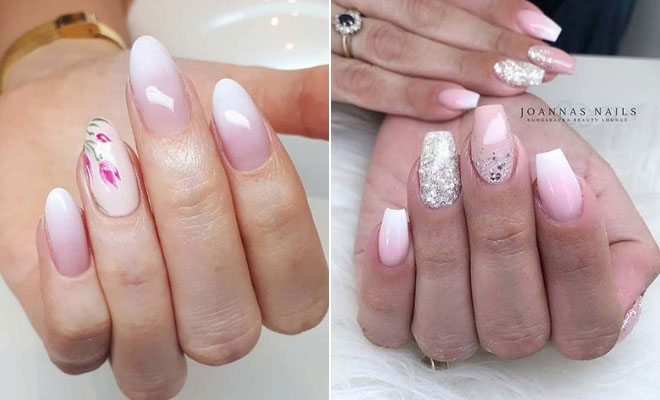 Instagram
Beauty
41 Elegant Baby Boomer Nail Designs You'll Love
By
|
31. Pretty and Glitzy Mani
Next, we have another pretty and glitzy idea to show you. This mani features cute ombre coffin nails. Each nail is also decorated with sparkling rhinestones. This mani shows how different rhinestone designs can create completely different nails. Recreate something similar or try the nail art with the crystals on a different nail shape. Stiletto nails would look amazing.
32. Glittery French Ombre Nails
This next nail idea is another one of our favorites. These nails are covered in sparkly baby boomer ombre. As you can see, the silver sparkles compliment the ombre colors perfectly. This mani has a magical vibe and it is perfect for the winter season. A glitzy and elegant design like this would be great for weddings too.
33. Elegant Ombre Nails with Gold Details
Baby boomer ombre looks amazing with other colors like gold and here is a stunning example. For this look, some nails have the ombre, one is glittery and gold and the last nail is clear with a gold foil design. We love the gold and baby boomer art, it's a stunning combination. The nails have a glamorous look. This mani would be perfect for Christmas and NYE.
34. Ombre and Silver Glitter Nails
If you love your nails to be sparkly with bling, then this is great for you! Here we have long coffin nails. Some nails have simple ombre, one nail is sparkly, the next is nude with a silver tip and the last nail has ombre with rhinestones along the cuticle. It is a stunning and statement making look. A glitzy mani like this would be perfect for a night out. Recreate the whole look or just one or two of the designs.
35. Elegant Ombre with Butterflies
We love this next nail idea! This mani features soft ombre and one of the nails has an elegant butterfly design. We love the butterflies and ombre because the combo is so pretty and feminine. You can recreate a similar mani or just use butterfly nail stickers on your ombre nails. Either way, your nails will look gorgeous.
36. Matte Baby Boomer Design
Earlier in the post we mentioned that you can use one rhinestone to glam up your nails. If you liked the sound of that, then you need to see this mani. Here we have soft, matte baby boomer ombre. Each nail is decorated with one rhinestone. As you can see, this creates such a stunning look. Recreate this or have only one nail with the rhinestone.
37. Long Silver Glitter Coffin Nails
Next, we have another sparkly design to show you. These nails are long and some are decorated with ombre, one is covered in glitter and the last nail is nude with a glitter tip. We love this mani because it combines some of the trendiest nail art. It is a stunning nail design that would be perfect for a night out or party. The nail art would look great on other nail shapes too.
38. Rhinestone Accent Nail
The next nail idea features another stunning rhinestone accent nail. So for this look, the nails are painted in the beautiful ombre. The accent nail features a circular rhinestone design. It is such a chic, glam and trendy idea. Recreate this or put the rhinestone design on all nails. You could even wear this design at Christmas because the crystals look like a wreath.
39. Perfect Wedding Nails
Cuticle nail art is another must-have nail look. This mani shows how to wear it in style. The nails have the ombre art and one nail has a pretty rhinestone design, while two of the other nails have a row of rhinestones along the cuticle. It is a such a trendy and glitzy idea. This is perfect for the ladies who like more unique nail art. Recreate this look or use the cuticle design on all nails.
40. Gorgeous Baby Boomer Mani
If all the bold nail art is not for you, then try a simpler baby boomer design like this one. These nails are long and feature glossy ombre. It is a simple and easy to wear mani that will suit everyone. Try a similar look to this or use the ombre on any nail length and shape. This version of the trend would look stunning on shorter nails.
41. Long & Elegant Nail Idea
Need a mani for a special occasion? If so, this could be perfect for you. Here we have long nails. Some have the baby boomer ombre while some are sparkly and one nail is decorated with rhinestones. The glitter used here is quite subtle but it is so beautiful. This is another mani that would be great for a bride.
We hope you have been inspired by these baby boomer nails!