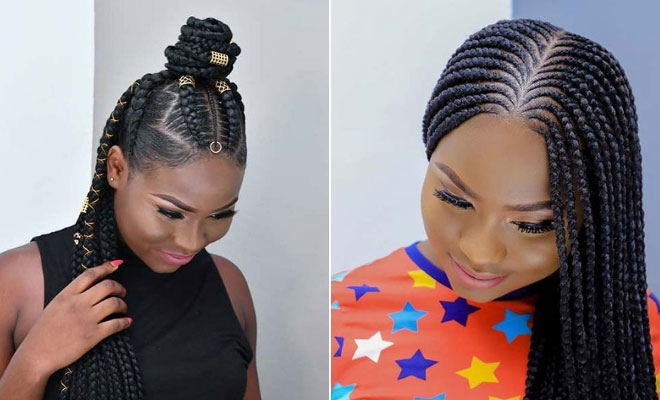 Instagram
Beauty
23 African Hair Braiding Styles We're Loving Right Now
By
|
One of the most popular hairstyles for black women are African braids. There are so many different ways to wear the braids so each style can be unique. It isn't just the endless design possibilities of the braids that make them a must-have. These styles suit all ages and most of them suit any occasion too. So, they are stylish, versatile and easy to wear. With all that said, we have 23 gorgeous African hair braiding styles to show you. We have lemonade braids, feed in braids, cornrows and more. There are even some funky color ideas for women that like to go all out with their hair. Make sure to take a look!
1. Rainbow Lemonade Braids
We would like to begin our list of African hair braiding styles by showing you these amazing rainbow lemonade braids. For this look, the hair is beautifully braided into a long side swept style. The hair starts black and then different colors are added to six of the braids. The colors range from red to purple. It is such an awesome idea and it is great way to wear bold colors. This fun hairstyle is perfect for the summer season.
2. Beautiful Braided Bun
Braided buns are another popular protective style that is loved by many women. The hair is styled into chunky cornrow braids and they are tied up into an elegant bun. This is a stunning hairstyle and it can be dressed up or down to suit any occasion. You can recreate this bun or wear it higher or lower on the head.
3. Blonde Lemonade Braids
Next, we have another must-have hairstyle. Here we have honey blonde lemonade braids. The braids are long, beautiful and have a simple and stunning braided pattern. Hair like this is easy to wear and will suit everyone but it is also a trendy look loved by many celebrities. Try the honey blonde version if you want to wear a new color as well as style. If the blonde isn't for you, then you can recreate the braids in any color of your choice.
4. Stylish Cornrow Braids
If you like to wear stylish braided patterns, then this hair idea is for you. Here we have five long feed in braids. The feed in braids are chunky with smaller braids one each side. It is a gorgeous hairstyle and it will give you an edgy and unique look. We think this hairstyle would look amazing in a different color such as red or even blonde.
5. Bob Braids with Triangle Parts
This next braided hairstyle is one of our favorites! For this look, the braids are bob length with triangle parts. The hair is also a warm multi tone copper shade. This style is complete with glam gold accessories. It is a statement making style and it will wow. You can recreate the whole look or you can try the accessorized bob in a different hair color.
6. Knotless Box Braids Bun
Looking for a cute and easy to wear hairstyle? If so, this is for you! This look features simple and long knotless braids that are styled into a sky high bun. Hair like this can be dressed up or down to suit any occasion and it will suit all ages. This hairstyle is great for the summer season because all your hair is up and easy to manage.
7. African Cornrows with Cords
Next, we have beautiful and simple cornrows. The hair is braided into a stylish pattern and is accessorized with gold and colorful cords and a cute heart charm. This is a pretty hairstyle and you can recreate this or use different accessories. Try to keep the gold cord because that really jazzes up the hair.
8. Trendy Patterned Braids
We love this next hairstyle because it has such a chic and trendy braided pattern. So, here we have six feed in braids with two mini braids on each side. The different braid thicknesses and the simple pattern really make a statement. This is a gorgeous hairstyle, that you can easily recreate or use a different amount of braids. A five braid version would look great as well.
9. Bohemian Feed in Braids
When braiding your hair, you don't have to braid all of it. You can leave the feed in hair loose to achieve another popular braiding hairstyle. This hair idea shows how to wear the bohemian look in style. The hair is braided into feed in braids and some of the hair is left loose and curly. This is such a beautiful and stylish way to have the best of both worlds – you can have those trendy braids with luscious curls.
10. Gorgeous Zig Zag Twist Braids
Another way that you can jazz up your braids is by using different partings. There are lots of different patterns to try but this one features zig zag! The hair is styled into beautiful twists with zig zag parts. As you can see, this really makes the simple style unique and statement making. Recreate this look or you can use the zig zags with any type of braid.