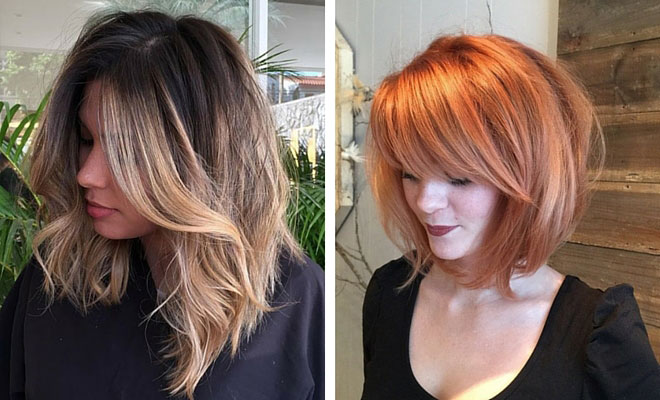 Instagram
Beauty
51 Trendy Bob Haircuts to Inspire Your Next Cut
By
|
21. Curly & Messy A-Line Lob
Short hair definitely doesn't need to be picture-perfect and this messy A-line bob is a perfect example of that. Sometimes it pays to let your hair do it's own thing. Let your hair follow it's own natural wave and then accentuate it with the help of a curling iron.
22. Blunt Bob and Soft Highlights
Although it seems everyone is going for the choppy-edged bob, there's something to be said for the blunt edge too, a look that works spectacularly well with these soft blonde highlights that are barely-there, and the very loose waves just to add a bit of something extra to the style. Easy, simple and low-maintenance. It won't even matter if your roots grow out a little.
23. Sexy & Edgy Textured Bob
If you're going to go with a blunt bob, you might as well make it edgy as shown here with this beautiful plum-purple sexy and edgy textured bob. You really don't need a lot to get this look finished – dry your hair upside down to give it the volume and then use mousse and your other favorite styling products to bring it to life. It's easy styling without the heat!
24. Inverted Bob Cut + Ice Blonde Highlights
With cool and dark blonde highlights, this inverted bob really has been brought to life. If you're looking for an easy way to reinvent your short hair, just add a few subtle highlights to add depth. You don't even need to go with the inverted finish if you don't want to – these highlights would even look great on one-length hair, short or otherwise!
25. Metallic Grey Textured Bob
Grey was once a color only associated with the elderly but #silverhair is everywhere right now. This dark/platinum silver/grey color is perfect for this shabby bob, not quite curled but more tousled, it's another look that will only take you five minutes in the morning… Leaving you more time to perfect those brows!
26. Slightly A-lined Long Bob and Lowlights
Lowlights are used when you want to add 'dark highlights'. It's the opposite (in a sense) and you can see how to achieve it subtly by looking at this beautiful slightly A-line bob with the darker blonde lowlights peeking through. It can be quite hard to get the kind of depth you're looking for with highlights and short hair, so these lowlights give you the perfect solution.
27. Strawberry Blonde Long Bob
Flicking the hair out from the face in this way is very flattering and can be used for a number of different face shapes, and with a number of different hair cuts and styles too. If you've spent a lot of time on your makeup, short hair or otherwise, get the curling iron or your dryer and a round brush, and tease the hair outwards to open your face rather than close it in.
28. Messy Graduated Bob Haircut
By keeping the length on the top of this style, you have a great way to thicken hair. The back graduation of this style is very short but the longer lengths left at the top and the sides help you to create a style where it wouldn't have been possible with a shorter one-length all over.
29. Blonde Blunt Lob Haircut
Simple, stylish and elegant – three words that could easily be used to describe this beautiful blunt bob. Hitting just above the shoulders, this is a great look to show off that great new highlighter you just bought, especially if you flick the hair over to one side like this. Keep your hair simple to make your makeup more accentuated.
30. Soft Textured Bob Cut
Who said you couldn't rock a centre-parting with a short bob? This collarbone-skimming look works because the ends of the hair have been tousled into waves. A centre-parting can be hard work if you have straight and limp hair so if all else fails, add some mousse or dry shampoo and get some volume injected into it.