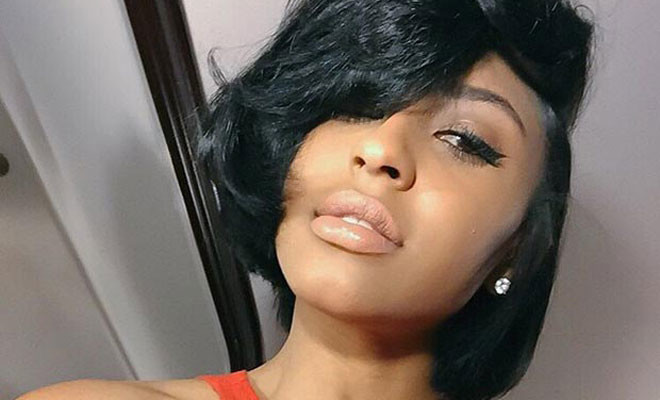 Beauty
70 Short Hairstyles for Black Women
By
|
There is something about women with short hair that we just adore. It's definitely their fierceness and confidence. Short hair gives you a taste of power that you can't experience with long, boring hairstyle.
One things is for sure – short hair will never go out of style. Also, the shorter your hair is, the easier it is to switch hair hues and manage your  curls. Short hairstyles are easy to care for and will save you a ton of time in the morning.
We collected 70 pictures of ladies who look great with their short hairstyles. They might inspire you to go short today.
1. Short Blonde Hairstyle
This short hairstyle looks fabulous with messy curls at the crown. You can get these curls using a hair curler or hair rollers. Make sure to tease them for a big, voluminous hair.
The hairstyle can be easily transformed into a mohawk if you shave the sides of your head.
2. Short Natural Hair with Twists
Leaving your sides sleek and guiding all the twist curls to the crown, you will come up with a quite unique and impressive short hairstyle.
Highlights are the easiest way to switch up your short hairstyle, without going overboard. Golden and honey blonde highlights look great on women who have darker skin.
3. Curly, Light Green Pixie Hairstyle
This gorgeous lady brings out an amazing example of short hairstyle with unique color solution. We love women with enough courage to dye their hair in bold colors.
You can achieve this color no matter how dark your hair is. Just make sure you keep your hair moisturized.
4. Natural Curls Hairstyle
Short curly hairstyle with warm highlights is a great option for women who don't have much time to style their hair. Blonde, caramel and honey highlights will make your curls even livelier.
5. Short, Bouncy Curls Hairstyle
This short and curly hairstyle is gorgeous and easy to pull of. To achieve voluminous, bouncy curls use hair rollers. Paying attention to texture is key.
6. Ash Blonde Mohawk
Women with mohawk hairstyle rock! A mohawk offers a unique and interesting style that will turn heads, especially if you dye it ash blonde. Are you bold enough to try this look?
7. Short Pixie Hairstyle
This spiky pixie cut is a proof that low maintenance hair is possible. Women with short pixie hairstyles don't spend hours and hours straightening and curling their hair. Lucky them!
8. Curly Blonde Bob
We love this curly bob with highlights because it looks effortlessly chic. Also, with this hairstyle you can look amazing in every situation. This is the perfect hair color for ladies who want to brighten up their curls.
9. Grey Mohawk with Shaved Sides
In 2019, grey hair isn't a symbol of aging anymore. More and more young women are  turning to salons to go grey early. Are you feeling this chic and fun trend?
10. Black & Blonde, Curly Mohawk
Short hair can also be glamorous and sexy, especially if you confront two quite contrasting hues – black and blonde. Blonde highlights are recommended for women who want a completely new and fresh look.
11. Blonde Pixie Cut
There aren't too many women that can pull this look off. As you can see,  you can still look feminine and sexy even if you're rocking a pixie cut. Headbands are simple and easy way to glam up your short hairstyle.
12. Curly, Red & Gold Hairstyle
This combination of colors will bring out the warm undertones in your skin. Once you try this hairstyle you'll find yourself obsessed with it. Try at your own risk.
13. Long, Straight Pink Bob
Surprisingly, a bright pink shade works pretty well with darker skin. The transition of dark brown into dark and light pink looks pretty cool. If you want to play with pink color but you're not brave enough to go all the way with it, just play around with the tips.
14. Pixie Hairstyle + Pin Curls
Pixie cut with pin curls will bring out the beauty of your facial features. We love pixie hairstyles because they are easy to maintain and style. So cute and pretty!
15. Short Layered Bob with Bangs
Short bob with bangs is type of hairstyle that's always trendy and stylish. Bob isn't time consuming and it can be easily styled with the right brush and blow dry.
16. Short Blowout Hairstyle
With this short hairstyle, you just wash and brush your hair and you're ready to go.  The layers in the back create volume giving you a fashionable and super stylish look that doesn't require high maintenance.
17. Red Natural Curls with Golden Highlights
We can't get enough of this lovely color combination. This hairstyle is perfect for women who want to keep their natural hair texture. The less you do to your curls, the better they look.
18. Short Black Hairstyle + Honey Highlights
Add depth to your dark hair with some big honey highlights. This combination of shades is gorgeous. Also, this short hairstyle isn't as high-maintenance as you would think. It literally takes tow minutes to style. Wow!
19. Green Bob Hairstyle
Try something unique and go with an edgy bob in green shade. This bob is ideal for women with oval-shaped face. Make sure to refresh it every 3-4 weeks.
20. Straight Grey Bob
Here's another cool bob, but this tome in lovely grey color with blue highlights. Besides the offered style, you can rock it curly or wavy.
21. Natural Curly Hair with Highlights
Sometimes you need to let your natural hair do its thing, right? Make sure it's properly hydrated.  With this hairstyle you will get a ton of attention. You have been warned.
22. Bald Blonde Hairstyle
When you think of bald, blonde hairstyle, what's the first thing that comes to your mind? Probably Amber Rose. She's one of the hottest women without long hair. Amber inspired many women to go bold and love their unique cut. We must admit that it takes a lot of self confidence to wear this look. This hairstyle is truly a statement-making look.
23. Short Natural Haircut
With short natural hairstyle, you can finally take control over your unruly curls. We love how this hairstyle is worn here, with bold lips and neutral eyes.
24. Short Platinum Blonde Bob
If you need a drastic change, go platinum blonde. We love this short bob because it's sexy, sleek, and on point. Keep some length at the front to frame your face.
25. Grey Pixie Cut
This shade isn't just for old ladies. Many women opt the pixie hairstyle in bold color to look trendy this year. Will you be one of them?
26. Elegant Curly Hairstyle
 This curly, elegant hairstyle is suitable for an everyday wear as well as for special events. Soft whimsical curls in light brown shade are super flattering.
27. Full Head Bob
Keep it classic with timelessly stylish full head bob. Before drying with a round brush it's recommended to apply volumizing serum to your roots. It will help you achieve that va-va-voom volume.
28. Messy, Layered Pixie Cut in Blonde
Spice up your layered pixie cut with a mixture of two blonde shades. We love it because it doesn't hide your face. Steal her style by wearing it with pink lips and neutral eyes.
29. Straight, Short Hair Mohawk
Versatile hairstyles are the best! When brushed forward, this hairstyle becomes an edgy mohawk. Brush the hair down and you have a completely different look. Unique and modern option for fashionable women.
30. Short Box Braids Bob
If you're looking for an eye-catching short hairstyle that's totally exotic and sexy, short box braids bob might be your perfect choice. This hairstyle is not only trendy and gorgeous, but also keeps your hair protected.
31. Orange Color + Natural Curls
Stand out from the crowd with vibrant, orange hair color and natural curls. Bold hair colors are only for women with strong personalities.
32. Grey Box Braids Bob
Grey box braids? Yes, please! This season, colored box braids rock and we love it. Box braids might consume some time during the braiding process but the end result is worth it.
33. Short Bob + Side Swept Bangs
This cute short bob with side swept bangs will emphasize your beautiful facial features. Depending upon your hair texture and facial shape, you can use slight modifications in the hair color and haircut.
34. Layered Purple Bob
Layered bob looks incredibly cool, especially if you add a bit of color. This style is anything but boring. You wont regret if  you opt for this fabulous short hairstyle.
35. Platinum Blonde Layered Mohawk
This platinum blonde mohawk is left longer on the top and can be worn wavy, curled or straight. It's perfect for showing off your smooth complexion and beautiful face.
36. Green Hair Mohawk
We love this bold, brave mohawk. For more mohawk hairstyles check our other article with 50 Mohawk Hairstyles.
37. Cute Light Brown Bob
Short bob with long side-swept bangs suits lots of different face shapes. It also looks great on women of all ages. Short bob requires volumizing products at the roots and good round brush.
38. Edgy Short Hairstyle
Feeling edgy and trendy? Ask your hair stylist for this spiky haircut. Spiking up the top layer adds a trendy, fun flair. Prepare hair styling products, you'll need them if you op for this short hairstyle.
The top of your hairstyle can be easily switched up with a curling iron for a more elegant look.
39. Burgundy & Black Curly Hairstyle
For a pop of color, we recommend these bold highlights. Burgundy highlights can be a beautiful option for black women who want to jazz up their curls. Shades like this one are not only chic but complimentary to darker skin tones. Bantu knots are a great way to get these gorgeous voluminous curls without heat. The finished result will  last you a few days. Easy, heat-less and chic!
40. Edgy Blonde & Black Bob
This two-toned hairstyle is breathtaking! To keep it in a phenomenal shape, you will need a great flat iron.
41. Long Bob + Messy Weaves
Imperfect curls and long bob are the perfect match. Bob hairstyles are easy to style, versatile, and super-trendy, whether it's worn  straight, wavy or curly.
42. Ombre Bob with Blonde Highlights
Your natural hair color will break up the ombre effect making it look even more flattering and natural.
43. Short Cut + Colorful Highlights
If you're not brave enough to dye your whole hair in some wild-looking color, blue and grey highlights can do the trick. These colors look great against dark black hair. Perfect pop of color!
44. Blonde Bob Cut
Straightened bob with side-swept bangs is fierce yet feminine hairstyle. This blonde color will definitely brighten up your face.
45. Auburn & Gold Natural Curls
It's time to stop fighting with your natural hair and  take advantage of its frizzy texture. These auburn and gold highlights are easy to maintain and will compliment your natural skin tone. Big hair, don't care!
46. Short Curled Bob
Even though this bob is super short, it's still ultra-feminine and cute! Will you get this cute hairstyle a go?
47. Classic Bob with Highlights
This classic bob features side-swept bangs that are accented by blonde highlights. Style is achieved by flat-ironing or blow-drying. Gorgeous!
48. Platinum Blonde Pompadour Mohawk
If you decide to dye your hair in platinum blonde, take note that this color will require more frequent touch-ups.
49. Black Pixie Cut with Long Bangs
This short and sleek hairstyle features full, volumous fringe. Style will compliment women with oval-shaped face.
50. Ombre Full Head Bob
Ombre bob hairstyle will keep your look fresh and in style. The cut is angled longer in the front and cut shorter in the back.
51. Short Asymmetric Hair
Give yourself a trendy look with an asymmetrical hairstyle like this one. When hair is asymmetric it means that one side of the hair is longer than the other. For this style, one side of the hair is super short and the other side is a bob length. Hair like this is perfect for the trendsetting ladies!
52. Shaved Blonde Hair
Next, we have a statement making shaved look. The hair has been shaved to a very short length and features super stylish patterns. It is also a very bright blonde shade too. We love this hairstyle because it will make you stand out from the crowd. You can recreate this look or try a shaved hairstyle with a different color or a different pattern.
53. Stylish Graduated Bob
Looking for a stylish bob? Then this is for you. Here we have a graduated bob. A graduated bob is shorter at the back and longer at the front. This cut is trendy, chic and will suit everyone. For an easy to wear style, recreate the look below or you can jazz up the hair with a different color.
54. Bold Burgundy Hair
Our next idea features a bold and trendy color. This short cut is a beautiful burgundy shade. Burgundy is a stylish color that suits all hair cuts and styles. It is a color that never goes out of fashion. Here is a stunning way to wear it. The hair is short at the sides and is long and curly on top. We love this hairstyle.
55. Short Hair with Bold Color
If you don't want to color all your hair in a bright shade, then our next hairstyle could be perfect. This hairstyle is short and sleek with added color at the front. For this look the hair is red and green but you can recreate this hairstyle with any colors you want. This is a stylish and subtler way to try a new, bold hair color.
56. Chic Pixie Haircut
Want to glam up your look? If so, choose a pixie cut like this one. Pixie hair cuts are short, feminine and loved by celebs like Rihanna, Jennifer Hudson and Halle Berry. Hair like this will give you an A-list look everyday! Recreate hair like this or choose a pixie cut in a funky color.
57. Fiery Short Hair
Spice up your hair by getting a cut and color like this! This hair is short around the sides and long on the top. It features warm coppery red tones and is beautifully curled. This is a bold hairstyle that will make you stand out from the crowd. Hair like this will look amazing all year round but especially in the fall and winter as these colors suit that time of year perfectly.
58. Simple and Stylish Short Cut
If all the bright colors, patterns and bold cuts are not for you, then consider a hairstyle that is simple and stylish. Here is a stunning example. This hair is shorter around the sides with a slightly longer length on the top. It just looks effortlessly cool, is easy to wear and will suit everyone.
59. Short Natural Hair with Shaved Pattern
Like the shaved hairstyles with the patterns? Then you will love this next pick. For this look the hair is shaved, has a trendy pattern and is short and curly on the top. Hair like this is for the women who want a no fuss hairstyle that expresses their own unique style and personality. You can recreate the hair with any pattern.
60. Short Black Hairstyle
Our next hair idea is stylish, glam and features beautiful curls. The hair is short but not as short as some of the shaved styles. This makes the hairstyle a great choice for the ladies who are trying short hair for the first time. It is a stunning hair idea that will suit everyone. We love this look!
61. Coppery Short Curls
Next, we have another curly style to show you. This one is again shaved around the sides with beautiful curls on the top. The curls are a mixture of black and a stylish coppery tone. This is a trendy idea that will make you stand out. You can recreate this look or try black curls with a different color. A bright red would look amazing!
62. Short Burgundy Haircut
Give yourself a glam transformation with hair like this! The hair is a super stylish burgundy shade and is short at the sides and long on the top. We love how the hair has been styled on the top, it is high wavy and very trendy. You will wow everywhere you go with hair like this.
63. Short Layered Haircut
Our next idea is very trendy. The hair is short at the sides and is a little longer on the top. What we really love about this style is the layers at the back. There is multiple lines in the back which create a stylish layered look. Hair like this is gorgeous and will suit everyone.
64. Short, Shaved Hair with Curls
If you love the shaved cuts with curls, then you need to check out this hairstyle. The hair is very short and shaved around the sides with stunning curls on the top. We love this hair idea because it has gorgeous brown highlights. This is chic and trendy hairstyle that will glam up your look.
65. Sleek Short Cut with a Hint of Blue
Want to try a new hair color but are worried it may be too bold? Then we may have the solution. Here we have a sleek, short style with a subtle flash of blue. The front of the hair just has a few blue highlights, this way you get the trendy color without being over the top. Recreate this look or try a different color. Red or pink would look stunning!
66. Short Sides and Long Top
Look trendy and edgy with our next hairstyle. This look features short hair at the back and sides with long hair on the top. The hair on the top is curly, textured and gives the hair a faux hawk look. Hair like this is perfect for the ladies who like to stand out and express their unique style. It is great for the inner rock chic too.
67. Trendy Short Blonde Hair
Be a trendsetting lady with our next hair idea. The hair is super short with long straight hair on the top. We love the color used as bright blondes like this look super stylish. It is an amazing hairstyle and you can try the straight hair or have curly hair. Recreate this look or try an icy platinum blonde, that would look awesome.
68. Short Cut with Vibrant Curls
Next, we have a vibrant curly hairstyle. The hair is quite long on the top and has a mix of pastel peach and pink tones. We love this hair idea because the colors are so bright and stylish. Hair like this is a great way to show off your individual style and love of color. Try this peachy look or try a vibrant color of your choice.
69. Short Ombre Natural Hair
If you are looking for very short hair, then check out this idea. The hair is shaved around the sides and is short on the top tio. There is also a trendy pattern. This hair idea is super easy to wear and will be low maintenance. You can recreate the whole look or leave the blonde and have one color. Maybe choose a different pattern too.
70. Statement Making Short Hairstyle
Make a statement with this next hair idea. The hair is a beautiful color combination of black and a caramel shade. It has been styled high with beautiful curls. This is a super glam hairstyle and it will be perfect for special occasions or the days where you want your hair to impress.
Are you brave enough to go for the chop? We know we are!