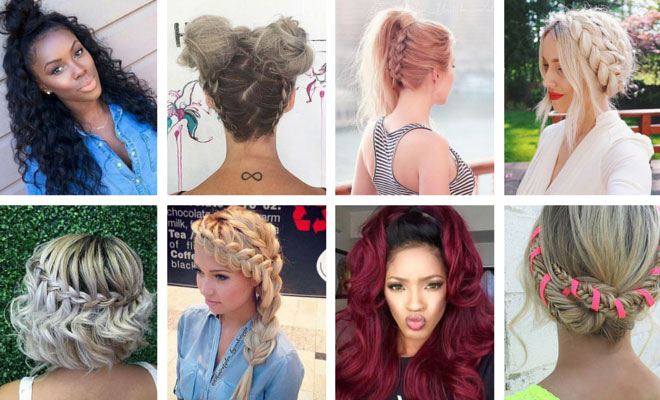 Beauty
50 Incredibly Cute Hairstyles for Every Occasion
By
|
21. High Ponytail + Dutch Braid
How sexy is this look? A Dutch braid is a great way to dress up your high ponytail. If you want a little extra volume, pump up your ponytail with some teasing. Again, pull out few face-framing pieces at the front.
22. Braided Low Ponytail
Try this low ponytail look for your next special occasion. The style will complement any outfit. Create a classic low ponytail and secure it with a hair tie. Pull few short pieces at the front to frame the face. Disguise the base of the ponytail then loosely French braid the tail, pulling out random pieces of the braid to create a more messy look.
23. Upside Down Braids + Space Buns
This cute updo is not as challenging as it looks. A zigzag part is a great way to jazz up any type of hairstyle. Part your hair into two sections and make the zigzag part using a parting comb or fingers. Secure one section with a hair band, flip your head upside down and start braiding. Secure the braid and create a small, messy bun. Repeat everything on the opposite side. For the sparkling effect, finish the look with a glitter hairspray.
24. Summer Braided Updo
A surefire way to make your updo stand out? Add a neon ribbon to it. Your hair won't ever look boring or basic if you pair braids and colorful ribbons. This braided updo is a must-add to your Pinterest inspiration board, right?
25. Braided Crown Half Updo
This braided half updo has been all over Instagram and Pinterest and we absolutely love it! Amber is the queen of braids. Here's how you can recreate it; Create a Dutch braid on each side of your head, braiding towards the back. Pancake the braids to make them bigger, pull them back and secure together.
26. Dutch Braid + Medium Length Hair
Just because you don't have long hair doesn't mean you can't rock some cute braided hairstyles, right? A one, simple Dutch braid can attract a lot of attention, especially if you have red hair.
27. Messy Side Fishtail Braid
A loose fishtail braid will add a dressy touch to any outfit. This style can be mastered in no time. For a more textured look, pull out some strands – braids look better when they are messier!
28. Cute Updo
This updo has a seriously elegant feel. Braided updos are perfect for hot weather, when you want to keep your hair out of your face but still look cute. Don't be afraid to dress it up with flowers, headbands or sparkly hair accessories.
29. Side Swept Fishtail Braid
If you're not into updo's, you're gonna love this side swept fishtail braid style! This hairstyle looks so complicated but it's really not. The braid goes with casual and dressy attire.
30. Sleek Top Knot
The key to nailing this look? Second-day hair. This updo is a great way to keep your hair out of your face, especially during summer time. Whether your hair is long or short, you can rock this style.