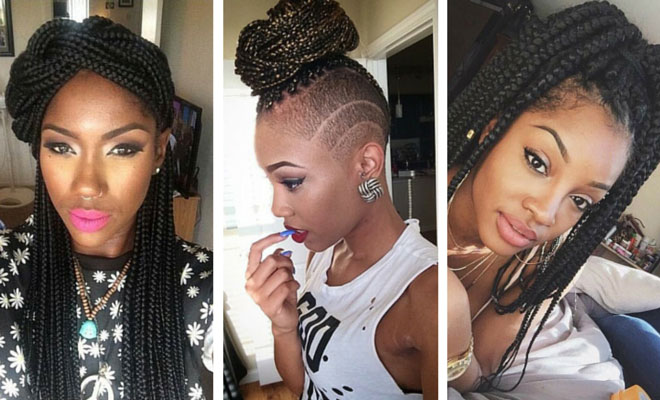 Instagram
Beauty
70 Box Braids Hairstyles That Turn Heads
By
|
41. Twisted Updo
This gorgeous updo is one to try. We love the hairstyles that are not hard to learn. At first, this hairstyle may seem really complicated and time-consuming, but actually it's not.
42. Big Box Braids Half Up, Half Down Style
Big box braids are a hot style, especially if you pull them in one of our favorite hairstyles – the half updo. Perfect style when you want your braids out of your face.
43. Braided Side Bun Tutorial
Ladies, after this tutorial there's no excuses for poor looks! Next time when you're in a rush, make sure to turn to this hairstyle. The tutorial is easy to follow.
44. Colorful Box Braids
The colors scream summer, but let's face it, very few women are bold enough to sport this colorful style.
45. Box Braids into a Halo Braid
French braid your box braids from ear to ear to create this fabulous halo or goddess braid.
46. Simple Half Up, Half Down Style
We love this hair color! It's perfect for warmer seasons and compliments black skin so beautifully.
47. Small Box Braids Half Updo
You probably think: "Why didn't I think to try this hairstyle sooner?" It's so simple yet so stylish and cute. Gold cuffs add a special glam touch to the whole look.
48. Messy High Bun
This woman is a real beauty, isn't she? Gathering the box braids in a high bun is one of the easiest styles women may opt to. The messier bun, the better.
49. Chunky Side French Braid
Only French braids have ability to transfer an ordinary hairstyle to a whole new level. This side French braid is a super easy way to style your box braids. Once you try it, you'll get addicted! You have been warned.
50. Black and Blonde Braids into a Ponytail
Yes, you can look incredibly stunning by simply tying your box braids up in a high ponytail. We love how the black and gold colors are featured in the braids, as well as in her outfit.