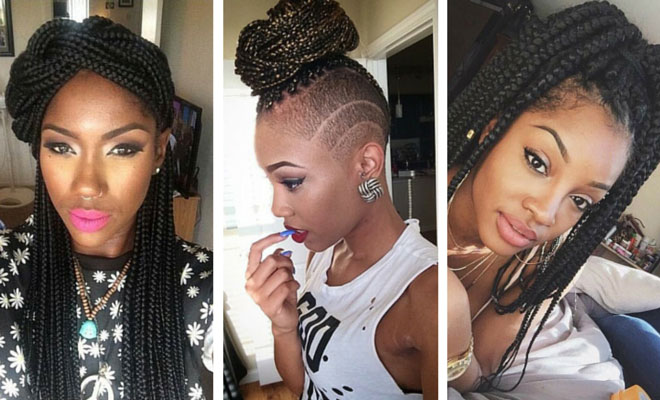 Instagram
Beauty
70 Box Braids Hairstyles That Turn Heads
By
|
11. Braided Half Updo
This hairstyle seems like it takes a lot of work, but actually it doesn't. Easy but stunning hairstyles are our fave. This hairstyle is ideal for summer weddings and other special occasions. We love the entire look, including the pink lip.
12. Formal Updo Tutorial
Who needs a hair stylist when there are so many talented women, willing to share their secrets on how to create some stunning hairstyles, right?  If you like this updo, make sure to try it for your next formal event.
13. Pastel Pink Box Braids
If you are getting tired of the same old hair color, we encourage you to try a statement-making hair color, just like this gorgeous pastel pink! Purple, pastel pink, grey and light brown colors will accent your skin tone perfectly.
14. 4 Box Braids Styles for Summer
These looks are easier to achieve than you think! We love the pop of red color, it makes the whole look much much better.
15. Twisted Side Ponytail
Side ponytail is the perfect look for get togethers with your girlfriends. At least one of them will ask you how to achieve this amazing hairstyle, we guarantee it.
16. Big Box Braids
These big and chunky box braids look stunning, even when they are left freely hanging. Who needs a hairstyle when there are hair cuffs, right? They are the easiest way to add a touch of glamour to your look.
17. Box Braids into Two French Braids
Our ladies with smaller box braids will be able to rock French braid pigtails. Apparently, most men think pigtails are super sexy. Match yours with big gold earrings.
18. Green Box Braids + Floral Headband
Green hair? Sure, why not! If you're feeling like your green hair is just missing something, you should add some accessories such as floral headband. Big flowers in hair are a must-have for this spring and summer.
19. Half Updo Tutorial
Braiding the box braids into a big braid, always ends up with a stunning hairstyle. Besides French braid, you can braid a fishtail braid or simply make a two strand twist. We love this tutorial!
20. Box Braids Mohawk
Are you brave enough to shave off the portions of your hair? We don't know about you, but this edgy hairstyle makes us want to shave off our sides right away! Shaved sides look better with longer braids. And don't worry, high bun isn't the only way to style your braids when rocking this type of mohawk.