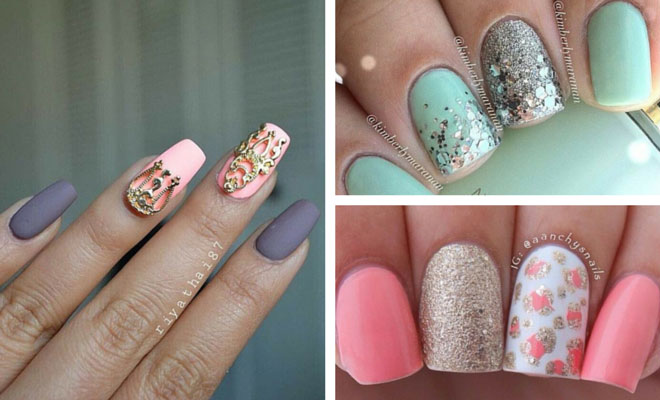 Beauty
50 Best Nail Art Designs from Instagram
By
|
31. White Nails + Gold Glitter
If heavily decorated nails aren't your thing, you will love this simple white and gold mani. White and gold are one of our favorite summer combos. It's elegant and timeless. This sparkly gold nail polish is OPI's "Love.Angel.Music.Baby".
32. Dark Red Flower Design
These simple but cute flowers can be on your nails, too! To make them so clean and perfect, you'll need a dotting tool. Products used: OPI "Meet me at the Disco" and "Snow me White".
33. Simple Black & Gold Design
Go goth with this matte black mani with a pop of gold. This nail design is ridiculously easy to do and can never go wrong.  The black nail polish is Essie's "Licorice" finished with Essie's "Matte About You".
34. Pink Rhinestone Accent Nail
You don't have to go crazy with your rhinestones to have a sparkly manicure. With a different color on an accent nail, this nail design would work great as a bridal mani. Right?
35. Tiffany Blue, White & Gold Nails
Having trouble choosing between gold, white and Tiffany blue color? Why not go with all three? Products used: Zoya "Bar", Sally Hansen "Golden" and China Glaze "Too Yacht to Handle".
36. Dark Blue Chevron Design
This navy blue nail polish (OPI "I Saw… U Saw… We Saw… Warsaw) is a perfect choice if you like the look of dark nails, but are tired of wearing burgundy and black shades.
37. Pink & Gold Nails + Flower Accent Nail
Nothing says "spring" quite like a colorful and floral manicure. Flowers in any size and color, are always an awesome choice for an accent nail.
38. Ombre Silver Glitter Design
Need a quick but elegant manicure? Opt for this lovely and easy nail design. Sparkly manicures are so magical and pretty! Products used: Zoya "Madeline" and "Lux".
39. Black & Nude Design with a Pop of Gold
This vampy nail design would go perfect with an attractive black dress and red lips. Nude and golden nails make this manicure more feminine and subtle.
40. Simple Nude, White and Silver Design
This nude and white nail design is ideal to wear all season long. Nude colors compliment all skin tones. Whenever you're creating an elegant nail art, make sure to include something sparkly. A pop of gold or silver glitter can make a huge difference.