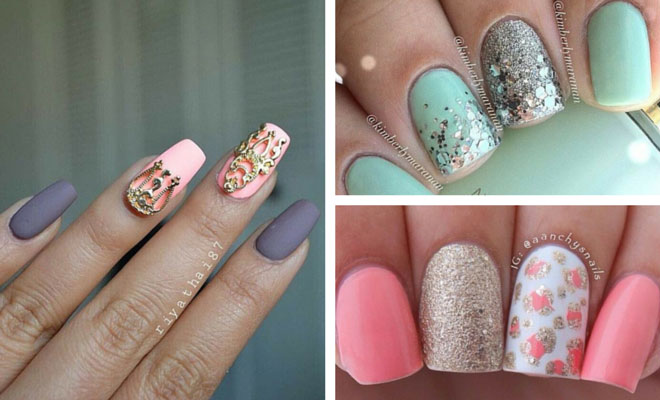 Beauty
50 Best Nail Art Designs from Instagram
By
|
11. 3D Flower Accent Nail
This elegant and girly nail design is fit for everyday wear. Besides being absolutely beautiful, this nail design is also quite easy to create. You just need to place some pearl studs and a 3D nail flower to your fingernail and you're good to go!
12. Nude & Dark Blue Coffin Nails
Coffin nails are the latest nail trend. Women went crazy for this nail shape because it's sexy and ideal for wearing heavy 3D nail accessories. Apparently, long nails can give you energy and power… especially if you adorn them with some bling bling.
13. Dark Nude Nail Design
What a gorgeous nude color, right? Polka dots and a sequin heart are a great way to break up an all-nude look. Don't own a dotting tool? No worry, you still can dot your nails using a bobby pin or toothpick.
14. White & Silver Nail Design
Why choose between a glitter, rhinestone, or sequin manicure when you can wear all three at the same time? This nail design might seem hard to create, but it's actually really simple.
15. Black & Pink Design
You can recreate this nail design even if you're a nail art newbie. Chevron pattern provides a gorgeous design, and it's quite easy to do. It looks great in every color combo.
16. Colorful & Simple Design
Here's a nail design where less is so much more. Pastel colors with a single glittered nail create a simple, trendy and elegant look. It's so simple to do, yet so stunning. Right?
17. Black & Yellow Nails
The contrast between glittery yellow and black nail polish is so striking. If you want an eye-catching nail design, always pick shades with  an intense contrast.  That big rhinestone on a fingernail brings this design to a whole new level.
18. Dark Red & Gold Design
A floral accent nail is fun and trendy, and an easy way to update your simple manicure. This nail design is perfect for fall.
19. Light Pink Heart Design
We are always in the mood for some hearts on our nails, whether it's Valentine's Day or not. Rhinestones really bring the whole look together. Products used: OPI "Alpine Snow" and "I Love Applause".
20. Matte Grey & Pink Nails
If you still haven't given 3D nail art a try, you definitely need to! Nail art accessories are compatible with both natural and artificial nails, they are easy to apply and they can last for a long time.