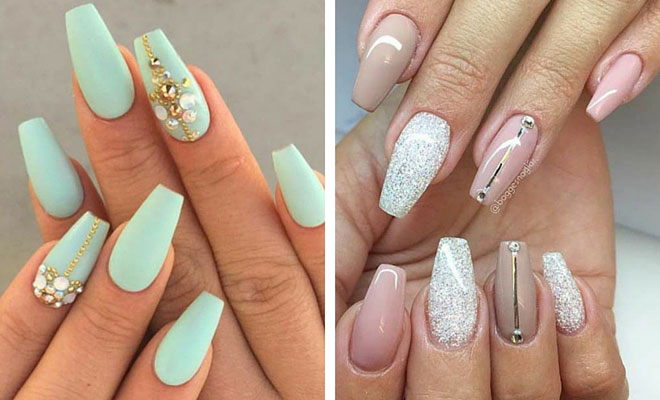 Beauty
31 Trendy Nail Art Ideas for Coffin Nails
By
|
11. Neutral & Mint Coffin Design
We're back to those beautifully minty shades here with these mint and neutral coffin designs.
It was Kylie Jenner who first made these nails so popular, Instagramming her latest must-have look. If it's good enough for her, it's good enough for us.
12. Matte Red Nails
When you want nails that pop, red nails are a must have. Passionate, fiery and romantic, there's nothing you can't team with classic red nails.
We love these matte red delights and those floral decals make them perfect for spring and summer. We can't help but think they look a little oriental themed and that's just fine with us.
13. Easy Purple Glitter Design
Don't fancy red? How about purple? How about glittery purple?
On the nude, non-purple nails, simply add that ombre glitter to the tips, and you could even layer up gold and purple glitter for a more 3D effect.
14. Grey Matte Nails with Golden Studs
We're all wearing studs on our shoes so it just makes perfect sense that you accessorise your coffin nails with studs too, in this case a really luxurious grey matte with golden studs to add that pop of color.
With pointed studs, keep things to a minimum, perhaps one nail only? You don't want to accidentally spike yourself.
15. Black and Red Glitter Coffin Nails
Black coffin nails are a bit gothic but all the celebs love them. If you want to try them, spice things up with a red glitter. Red and black always go hand in hand, and let's face it, it just looks perfection.
16. Nude and Navy Blue Nails with Rhinestones
Nauticual theme nails are a little too much for some but these nude and navy blue nails with rhinestones are a way to wear them on a more grown-up and sophisticated level. Keep things simpler with plain colors and plenty of gloss, or add rhinestones to feature nails to make them stand out. It's up to you.
17. Long & Neutral
They might have a pretty creepy name but there's nothing creepy about these stunning long and neutral coffin nails, complete with rhinestones and negative space chevrons. In fact, negative space and chevron designs are two you should definitely keep an eye out for right now. We predict they're going to be a big thing!
18. Blue Matte Design with Rhinestones
For nails that really stand out for all the right reasons, you seriously can't go wrong with this lust-worthy royal blue matte designs with rhinestones. A steady, even layer is what you'll need for nails this good, so try to concentrate on two or three coats of polish rather than one or two really thick ones. Otherwise you'll have smudges, smears and uneven patches and that'll just ruin the look!
19. Neutral Coffin Nails + Rhinestone Accent Nail
If you want to get imaginative, why not use those rhinestone gems to create a feature or a shape? Here you'll find a simply teardrop design but you could come up with any shape that you liked. You could create that feature nail by using squares, hearts, stars, circles, any shape you like in fact.
20. French Tip with a Twist
We all love the French manicure but these days, it's a little boring don't you think? There are so many different ways to wear your nails so it would be a shame to go with the same kind of design you've been rocking for the last few years. If you've always worn square tips, it might be time to make the chance. Go for something a little bit more abstract like these French tips with a twist.