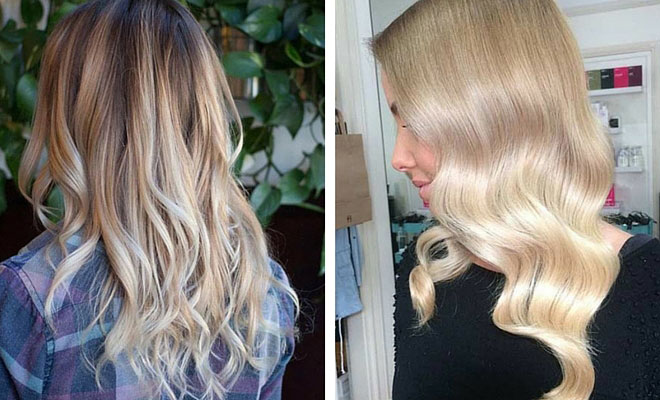 51 Stunning Blonde Balayage Looks
The balayage style is a hairstyle loved and adored by many because of its easy, versatile and low-maintenance nature. It allows for easier growing out of color as well as giving your hair a break when it's frazzled from over-treating, styling and dying.
Known for creating a beautiful, natural finish when done the right way, the trendy blonde balayage looks you are about to see are classic examples of how easy, simple and elegant the look can be. If you're thinking of giving this a shot, you should read this… and see these trendy blonde balayage looks we've found!
1. Dark Roots + Bright Ends
If you fancy the thought of blonde hair but don't really fancy the upkeep of it all, blonde balayage looks are the perfect looks for you. Why? Because the regrowth is easy and the maintenance low. We can't express enough how easy this look is to wear and with the darker color on the top, you can leave your roots to grow a little longer than you normally would, stretching out the time between sessions with your brilliant but very expensive hair stylist. (We love them for their magic on our hair but we wish they came cheaper!)
2. Soft Blonde Balayage
If you're usually a platinum blonde, try switching things up by going for more neutral shades, using toner to de-brass the look. Blonde balayage looks are designed to be subtle and discreet, that's why people love the style so much. We love the way this look incorporates our favorite shades of bright and ashy blondes together in one simple, elegant blend.
3. Beige Blonde
Going for an ash blonde rather than an icy-cool one is an easier transition to make if you're brand new to the realms of blonde hair. You'll only find out if blondes do have more fun by actually becoming one, but you need to get the right shade to avoid looking too bottle-blonde. You should be aiming for soft and natural rather than bold and trashy, and even the boldest of blonde tones have been blended properly.
4. Blonde Balayage Highlights for Brunettes
Blondes and browns work really well together especially when they are cleverly fused in this balayage style. Adding blonde highlights to brown hair (or brown lowlights to blonde hair), you're adding a new dimension to the look which can actually help your hair look thicker!
5. Blonde Balayage Lob
There are a million and one ways you could dress this look up or style this design down, and just by changing from a straight finish to a curly one will have the biggest of impacts. In fact, curls are the best way to wear a balayage style because it allows the flow of blended tones and shades to come together, showing off every aspect of your new color-job. Here's another great tip for you as well – if you're attempting one of these blonde balayage looks for yourself at home and you find your blending hasn't blending so well, well placed and spaced curls can cover a multitude of sins!
6. Natural Looking Blonde Balayage
These waves are perfect for the days when you feel completely uninspired when you wake up in the morning. You can achieve these loose curls easily with the help of your hair straighteners, flicking them out as you pull the heat down to gentle shape it. You can add as many or as few curls as you like and as we've recently discovered, you don't need to do this in layers either. Just grab ends and get twirling – it really is as simple as that.
7. Honey Blonde Balayage for Brunettes
If you have thin or fine hair, adding layers to the ends irrespective of length can instantly add more depth, making it look as if your hair is thicker than it is. We love the way the layers have been infused with the different shades of brown and ash blonde here to create a subtle, natural finish and one that would be easy to wear straight or curly / wavy.
8. Low Maintenance Blonde Balayage Highlights
If you love your balayage hair but fancy something a bit more glamorous for an evening or nighttime occasion, nothing works better than these beautiful elegant waves. These are perfectly achieved with the help of some heated rollers and as the hair loosens throughout the evening, will result in loose waves that you could even get away with wearing the morning after the night before.
9. Blonde Balayage Highlights for Dark Brown Hair
If you're going blonde for the first time and haven't already figured out that it's a pretty high maintenance color, trendy blonde balayage looks, just like this one, are spot on. You would never know if that darker shading at the top is a natural brown root showing through or cleverly coloured that way. That's the best thing about it – it doesn't matter if you spend an extra couple of weeks before you get back to your hairstylist.
10. Sun Kissed Highlights
Adding layers helps to show off every range of your new color job and when you have shades as beautiful as the blonde balayage tones you can see here, why wouldn't you want to show them off? The aim of the game is to have the blonde shading hitting the places the sun would naturally hit. Think sun-kissed and you have about the right idea. Again, flick those layers out with the use of your straighteners (or even a clever blow dry) and you have a quick and simple look that's perfect for any occasion, dressed up or down.
11. Ice Blonde Balayage
Everyone has gone from their deeper, darker brunette shades to lighter, blonder tones for the spring and summer 2019 season. Khloe Kardashian was recently seen sporting this beautiful blonde bombshell look. If you want to go for blonde for the first time and you have naturally blonde hair, we would highly recommend that you discuss the matter with a professional hair stylist first as there will be many things you'll need to take into account. Things like your skin tone and eye color are important when making hair color decisions.
12. Dark Roots, Honey Blonde Ends
Nothing works better with these blonde balayage looks than a boho twist, and with the summer coming right up, there hasn't been a better time to try and experiment for yourself. You can achieve these beachy boho waves easily by mixing some sea salt with water in a spray bottle. Simply spritz and crunch for an easy daytime look that you can easily carry right on through to night too.
13. Perfect Colourmelt.
If you want blunt, go blunt, there's nothing to stop you. We love this look and the careful, perfect blending that went into it. If you want super-straight hair though, and super sleek like you can see here, you must be prepared to go to a stylist. This is a look that doesn't allow for any mistakes.
14. High Contrast Blonde Balayage
Who said you couldn't have light and dark together? This high-contrast blonde balayage look is not only beautifully breath-taking, it's actually very subtly done. You can barely make out the line between the color changes and this is the look you want to achieve especially if you want a high quality balayage look.
15. Sandy Blonde Balayage
Many stylists wouldn't recommend lightening or bleaching your hair at home especially if it's your first time, and there's plenty of reason for that. There are many things that can go wrong and just remember – this is your hair. You'll need to live with whatever happens. If you're wanting one of these blonde balayage looks for the first time and you want to get it right, do yourself a favor and just see a professional who you've done your research on. If you're being told it's not a great time to try and lighten your hair, there's a probably a good reason for it.
16. Silver Blonde
Blonde balayage looks are great for those who want to go blonde for the first time, but not too blonde. As you can see here, there is the perfect amount of light and dark, giving you the perfect balance of the two. If it's your first time, something discreet and subtle like this is definitely the way forward. There's still enough dark at the roots but plenty of light around the bulk of your hair. You could even go for a lesser stream of highlights and blending for a more toned down look.
17. Ice Blonde Highlights
Of course if you want to go all-out, why not? We love these ice blonde highlights, another of the blonde balayage looks you simply must try for 2019. Although the brown has been left relatively neutral and close to the model's natural hair color, the rest of the look has been given a beautiful frosting of that icy blonde hue, combining the two with varying shades between the two. It's a bold look and one that will take some maintenance, but it will get you noticed for all the right reasons.
18. Golden Blonde Balayage
Making a drastic color change is not something you should do lightly and if you are going to go through with a dark to light transformation, be aware that you will need to give the heated styling tools a miss for a while. If you're bleaching your hair, you're damaging your hair and more heat, such as hair straighteners, will provide further damage. Do yourself and your hair a favor and let your natural wave shine through.
19. Blonde Balayage Ombre
Is your hair in healthy shape already? If it's not, you may find that you have problems getting the colors to do everything you want them to do. If you have darker hair and you want to go blonde, your hair must be in good condition before you start any lightening treatments. If it's not, a whole bunch of things could go wrong. It is always advisable to do a deep conditioning treatment on your hair around 48 hours before your appointment at the hair salon. This gives you the best protection against the heating, lightening and heavy treatment it is about to undergo.
20. Blended Blonde Balayage
For fine and thin hair, your blonde balayage looks should incorporate plenty of shades of light and dark. Why? Well, those multi-tone shades help to add more depth to the hair. If it were all one color or tone, it would have no depth. Think of it like shading – adding a 3d effect. When you mix highlights and shading in this way to add depth, and then mix it with curls and bouncy waves, your hair will instantly look revitalised and thicker. It's a trick all the celebrities use!
21. Warm Blonde Balayage
You can have a blonde balayage look without changing too much of your own natural hair color which is one reason it's great for that growing-out stage of your hair cycle. Why not have the underlying colour of your own natural color and have a few handpainted blonde balayage highlights thrown in over the top? That's the thing about this look – it's so versatile, you can mix and match it up anyway you like. You can even blend just two shades or even multiple shades. The choice is completely yours.
22. Sandy to Bright Blonde Balayage Ombre
Before you decide to go with a bold and bright colour such as this bright blonde balayage, you will want to make sure you've had a good trim beforehand to get rid of any dead weight at the ends. By going for the chop beforehand, you're not dying any dead hair which means the color will go just as you want it too. In the long run too, with the lightening work you're doing to it, it'll be much better for it. We know you want beautiful long locks but in order to get there, sometimes you just need to take a few inches off.
23. Caramel and Blonde Balayage Highlights
This look is a perfect balayage example. As you can see from the blonde threading through, it's not all over in layers but more delicately placed than that. Both random and deliberate all in one. We've mentioned the sun-kissed thing before but this look really expresses that much clearer. If you want to go lighter but without giving your hair as much of a hard time, keep the really lighter blondes for as close to the ends just as you can see here. There is still a natural blend and gradient of color with that beautiful bright blonde pop, but it's not all over, therefore it's not causing as much damage.
24. Bronde Balayage
Another hair trend that's guaranteed to take 2019 by storm is the bronde look – a combination of brown and blonde. Jennifer Lopez has recently rocked it, Kim Murray, Cara Delavingne, and more. It's not blonde and it's not brunette, but somewhere in the middle and this is what has made it so popular. Technically you're getting the best of both worlds for those times you really can't make your mind up.
25. Dirty Blonde Roots Going Into Baby Blonde Ends
If you want to keep your beautiful new blonde balayage looks in check, know what maintenance and upkeep is required. This will mean a good chat with your hair stylist who will advise you on a few things to keep you looking at your best. Your beautiful golden blonde look wont' stay golden for long unless you learn how to keep it looking fresh and just a few of the tips you'll need to make note of include not washing your hair every day, using plastic rather than metal brushes when styling and brushing your hair, making sure you use a good quality conditioner and keep it protected from the powerful rays of the sun, avoid your hair straighteners, curling tongs and the heated styling tools as much as you can, and always have time for a good leave-in treatment such as hot oil.
26. Golden Honey Blonde
If you have shorter hair and want to make the most of your blonde balayage looks, try adding a few more heavier blonder highlights around the front of your face so they frame them beautifully? It's a great way of testing the waters with blonde hair, seeing if it works with your skin tone and eye color, before diving in deep and going all-over blonde.
27. Dark Brown Roots + Honey Blonde Highlights
When changing your hair color quite dramatically such as going from darker browns and blacks to much lighter colors, ensure you are realistic about the results. It might not be possible for you to achieve the lighter look you want in one sitting, and it may take you a couple of visits to get the desired effect. Trying to get it all done in one go will normally result in bad condition hair and this can cause breakage which is beyond repairable. If this happens, you can say goodbye to any further color jobs or maintenance you require and you may even need to cut your hair short.
28. Beige Blonde Balayage Ombre
We love this distressed and faded beige blonde balayage ombre, not quite as structured or perfect as some of the other looks we've seen but still a beautiful way to wear your hair nevertheless. There are more coppery-brown hues in the middle within this blonde balayage style, giving it a more natural look, and you can get a great sense for how easy it is to keep the essence of your natural tones and color.
29. Perfect Summer Look
Curls work perfectly with these blonde balayage looks but you can wear it straight too as this stunning design shows. The ombre – balayage design is still there with a beautiful brown to light blonde fade. It shows that you can wear straight hair well with this look, and also short hair. This lob is fabulous and perfect for spring. It's quite a choppy look but still has those gentle layers at the end, plus it follows that slightly longer style to make it all the more flattering.
30. Ashy Blonde Balayage
These spiralled ringlets are absolutely beautiful and are easy to recreate with your hair straighteners if you don't have your curling tongs to hand. It doesn't take long if you separate the hair into two pigtail-style sections, curling random pieces of each individually. Once you let the look down again, lightly tousle out the curls with your hands and go over a couple of sections to get a few loose, higher-starting ringlets just like you can see here. The curls don't all need to be the same size or shape and in fact, the odd ringlets and spirals just add to the 3D look with those dimension-adding highlights.
31. Subtle, Platinum Blonde Balayage
Caramel shades are perfect for the up and coming spring months, a look that's not too harsh or bleach-necessary on the hair but one that still looks cool and stylish. You don't need to go completely platinum blonde when you opt for your new color choice. There are plenty of shades and hides to pick from, from all color spectrums too. You could use this beautiful caramel shading to incorporate strawberry blonde or gingery tones.
32. Blonde Balayage for Brunettes
Next, we have a beautiful blonde idea for the brunette ladies. The hair is very dark brown with added blonde balayage. We love the warm blonde shade used because it is stylish and it compliments the natural brown color perfectly. Balayage like this will give your hair a lift and it will be perfect for the summer as your hair will look sun-kissed.
33. Beachy Balayage
Love the beachy hairstyles? Then this next hair idea could be perfect for you. Here we have very long brunette hair with blonde balayage. There are different shades of blonde used, one is a soft blonde and the other is very bright and more platinum. The hair is styled with waves which really gives it that beachy summery look. Hair like this will suit everyone. Try this multi tone look or try different blonde shades of your choice.
34. Balayage with a Vintage Vibe
If you love hairstyles with a vintage vibe, then you need to check out this next idea. The hair is very long and features multi tone blonde balayage. It is a light and bright look and it will look stunning on everyone. We love the cut too, it reminds us of Farrah Fawcett's famous haircut but this is more of a modern version.
35. Icy Balayage
Our next idea is icy and stylish. Here we have a gorgeous hairstyle that is dark at the root and then the hair blends into a stunning icy blonde shade. Balayage like this is bold and statement making. It is perfect for the ladies who have been fed up with their hair and want to try something trendy and new. Icy blonde will suit everyone.
36. Bright and Stylish Hair Idea
The next hair idea we have to show you is glam and elegant. For this look the hair is colored with two blonde shades. One is a light and warm blonde and platinum blonde balayage has been added too. The two blonde colors compliment each other perfectly and the curled hairstyle is gorgeous too. This is a beautiful balayage look and it is great for the ladies who want to brighten up their dull hair.
37. Summery Blonde Balayage
The summer is just around the corner so it is the perfect time to try a new hair color. You could try stunning blonde balayage like this. The hair is dark at the root and the hair blends into a gorgeous golden blonde color. We love the golden blonde because it is warm and stylish. The color would be perfect for the summer and the wavy style is too. So, give them both a try for a trendy summery look.
38. Trendy Blonde Balayage Bob
If your hair is looking dull and drab, then you could try a stylish color and cut like this. The hair is cut into a bob and the length sits just above the shoulders. Light blonde color has been added to the hair too. The blonde brightens up the hair and gives it a lift and the cut will give the hair some life back too. Hair like this perfect for those who want a complete hair makeover.
39. Glam Blonde Highlights
Next, we have another glam balayage look. The hair is very dark at the root and then it blends into a stunning, soft blonde color. We love the color because it is so chic and even though the color change does make a statement, it is quite subtle too. Blonde balayage like this is easy to wear and will suit everyone. The elegant loose curls are a must-have too.
40. Platinum Blonde Hair Color Idea
Looking for a new hairstyle that will make you stand out from the crowd? If so, this could be perfect for you. Here we have brown hair with very bright platinum blonde balayage. The color is stunning and bold. It will suit long hair like this or you could try the platinum balayage on a bob for a modern and trendy hairstyle.
41. Caramel Blonde Balayage
If the cool blonde colors are not for you, then you could try a warmer shade like this. For this look, the hair is brown with added caramel blonde balayage. The caramel blonde looks stunning with the dark brown color. It is a great idea for the ladies who want to try blonde for the first time because it is not as bold as the lighter shades. If you don't like the blonde, it will easily grow out too.
42. Blonde Balayage Highlights
Next, we have a subtler balayage idea. For this look, the hair gradually changes color into a beautiful and soft blonde shade. The blonde color is so chic and it suits the brown hair perfectly. Blonde like this is versatile and will suit all hair colors from black to red. The hairstyle is gorgeous too, so try them both for a stylish new look.
43. Warm Blonde and Caramel Hair
If you have blonde hair already, then this balayage idea is perfect for you. For this look, the hair is dark and then it changes into a warm blonde shade. Even though the hair featured looks brown, we think this gorgeous golden blonde will look amazing with darker blonde colors like honey. This is a stunning hair idea and it will glam up your look and take your hair from drab to fab.
44. Brown to Light Blonde Hair
The next hair idea we have to show you is light and trendy. Here we have a beautiful blonde hairstyle and the colors used change from soft blonde to a platinum blonde shade. The color change is stunning and it will suit any root color. You can recreate the look or try the balayage on shorter hair too.
45. Brunette to Light Blonde Lob Hairstyle
Our next hair idea is gorgeous. For this look, the hair starts brown and then changes to a stylish blonde color. Balayage like this is perfect for the trendy ladies who want their hair to make a statement. You can try an icy blonde color like featured or choose a slightly warmer shade. Either way, your hair will look stunning.
46. Sandy Blonde Balayage Idea
Give your hair a trendy makeover with blonde balayage like this. The hair blends from a brown shade into dark blonde and then into a beautiful light blonde color. We love this balayage as it is so chic and stylish. A color combination like this will suit everyone and it will transform your hair. You could try blonde balayage like this with any root color.
47. Unique Blonde Hair
If you want natural looking blonde hair then try similar balayage to this. As you can see, the root color is very dark but then the hair blends into a stunning golden blonde. Different blonde shades have been used which gives the hair a more natural appearance. It is a bright and summery look that will look gorgeous on anyone.
48. Stunning Bob with Light Highlights
Love the bob hairstyles? If so, you need to check out this next hair idea. Here we have a short bob with very light blonde balayage. We love the cut and the color because the two look super stylish together. A hairstyle like this is perfect for those who want a trendy hair transformation.
49. Honey Blonde Highlights for Brunettes
Another beautiful blonde shade you could try is honey blonde. This next idea shows how to wear the blonde color in style. The natural hair color is dark brown with added honey blonde balayage. We love the dark blonde and the brown root color as it is stunning combination. Hair like this is perfect for the summer, the blonde will make your hair look sun-kissed.
50. Simple and Stylish Blonde Hair
If you just want stylish hair that is simple and easy to wear, then this could be just what you are looking for. The balayage uses different blonde shades and all of them are light and bright. Blonde balayage like this will give your hair new life and it will give it a lift. It is chic look that will suit everyone. You could recreate a similar look with warmer blonde colors too.
51. Chic Balayage
Next, we have a chic blonde balayage look to show you. The hair is brown at the root and then it blends into a dark blonde shade and then into a soft light blonde. It is a gorgeous balayage idea and it will look amazing on anyone. Recreate the multi tone blonde or you can try just one of the blonde shades.
With the balayage look coming into season in a big way for spring and summer 2019, it's definitely time for you to be jumping on the bandwagon and with these #hairinspiration blonde balayage hairstyle ideas, as you can see, there's something for everyone. Happy balayage'ing!
Last modified on November 15, 2022