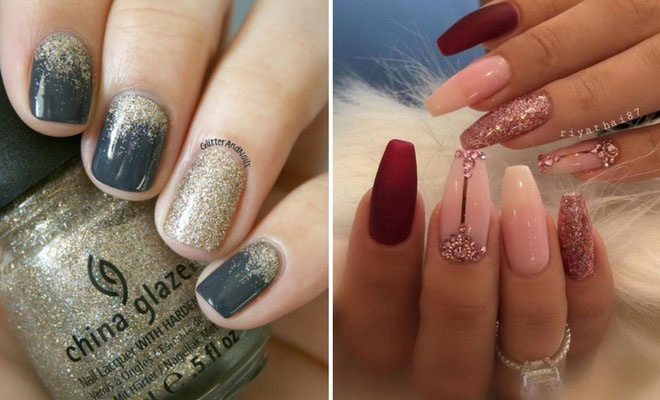 Instagram
Beauty
31 Snazzy New Year's Eve Nail Designs
By
|
21. Sparkly Coffin Design
Coffin nails are all the rage right now, and if you're looking for snazzy New Year's Eve nail designs, you won't get much more sparkling and dazzling than these. There's plenty of glitter and shimmer which automatically means we LOVE them!
Nail foils have been used to create that small design on the base of the middle nail, although you could go nuts with your design. Alternatively, leave things super simple (and beautiful) with those half and half, almost-ombre effect nails. We adore those!
22. Black & Rose Gold
This is a really simple idea, and one that won't actually take you that long to complete at home. Use a base coat, then your nude colour, and when that is completely dry, tape off the tips in a chevron pattern. Alternatively, use band-aids like we suggested earlier.
Paint the black gloss, and when that's dried, add your glitter over the top. Then remove the tape, add a top coat, and you'll be good to go. It shouldn't take much more than ten minutes or so.
23. The Perfect Gold Shade
Textured nails are a big deal right now, and this gold textured look is a great one. It's a little something different from the usual shiny / glittery nails you might normally look towards when on the hunt for snazzy New Year's Eve nail designs.
Again, to get a look like this, you'll want multiple fine coats rather than one big one. You'll need a super-smooth finish to get this one looking right, and you won't achieve that with thick and gloopy polish that'll make an age to dry.
24. Neutral + Gold Glitter
It's like an ombre, but rather then the sparkle being at the tips, it's been kept towards the base of the nail, a totally different look!
This just goes to show that the simplest of changes can completely transform the way your mani looks. Even something as simple as moving the glitter ombre form the top to the bottom can give you a brand new mani-idea.
25. Glittery Fireworks
These are so clever, we're a little bit on awe of them. To celebrate New Year's Eve the right way, you must have fireworks, and if you're not having them in the back garden, why not on your nails?
Using a fine tipped brush, sweep the glitter in firework-shaped lines. That's basically all this look is – clever sweeping with a thin brush dipped in silver glitter. So easy, so perfect, so awesome!
26. Rose Gold & Neutral Nails
Another fabulous look – tips and the base of the nail have been taken into account here, a beautiful spattering of rose gold glitter. In case you weren't aware, rose gold is a huge trend right now – hair, nails, make up …
You could hand-paint these, or use tape, but whatever you do, make sure you do it. These nails are awesome, and if you don't bag them, someone else will.
27. Matte Red
Matte nail polish can be quite hard to work with. Firstly, it won't work with anything oil-based so you can't use creams and lotion on your hands beforehand. Secondly, matte polishes never last as long as glossy ones. It's the perfect excuse to revamp your nails quicker!
This red shade is wonderful, but to make sure it lasts the difference, apply a red matte shade, and then go over the top of the nail with a matte top coat. Like a glossy one, but matte. It gives you an extra level of protection along with the matte red.
28. Perfect Last-Minute Design
Remember we told you to dab on glitter rather than brush it around your nail? With a look like this, dabbing is the way forward.
At least then you can make sure that you're covering all of the nail that you want to – very important for snazzy New Year's Eve nail designs.
29. Gold Glitter Chevron Design
Another one you'll need tape or foils for – gold glitter chevron nail designs. It's clever, can be customised with a wide range of both colours and finishes, and you can even add more bling in the form of embellishments.
We'd say that these were perfect for the New Year festivities and celebrations, wouldn't you?
30. Gold Sequins & Glitter
A gel polish will help you to get a super shiny look for your snazzy New Year's Eve nail designs, but these can be hard to get right at home. So many people make mistakes, such as missing out the cuticle oil, and not preparing for the mani beforehand.
If you have the chance, a salon appointment is always going to give you a better result than the one you do at home. This is usually because you just don't have the time (or effort) to dedicate to the cause. It's New Year after all – time to push the boat out?
31. Gold & Light Pink Coffin Nails
Although coffin nails are a big trend for right now, there are so many different styles, shapes, and lengths of nail design to pick from now, there's bound to be something that you can get along with.
If you find longer talons much harder to go about your day to day life with, try shorter, squarer-tipped nails, or ask in your salon what they think might be better for your lifestyle. Shorter is better and more practical, but longer looks prettier (for some). It's about weighing up those pros and cons.
So, what do you think? Which of these snazzy New Year's Eve nail designs are you obsessed with? We can't pick our favourite, but we do know that we love most of them. We can't wait of the celebrations to come around, and we hope you have a great New Year too!