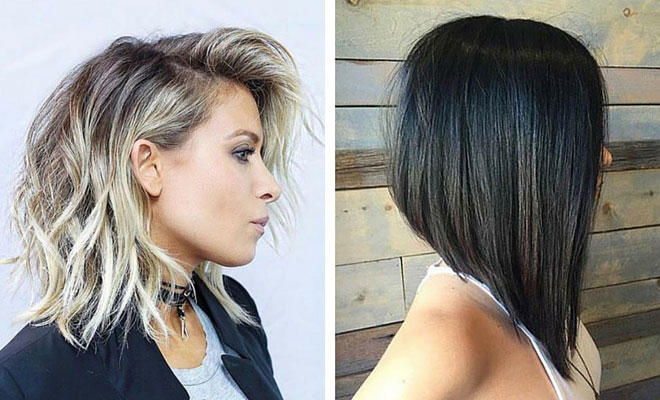 Instagram
Beauty
31 Lob Haircut Ideas for Trendy Women
By
|
21. Curly Lob with a touch of Lavender
The lob haircut looks great with both straight and curly finishes as you'll soon appreciate. The best thing about the lob is that looser curls work better than tighter ones so if yours tend to fall out quite quickly, it won't matter.
Medium-barreled curling tongs are your friend if you want to recreate this chic look and remember to add that deeper side parting to give the effect of wisp faux bangs elegantly pushed to the side.
22. Soft Asymmetrical Beige Blonde Lob
Oval face shapes are one of the best face shapes for these lob haircut ideas and you have the huge benefit of being able to rock basically any length or style you like. Bearing this in mind, it would be a shame to have all those opportunities and let them go to waste.
Many of the face shapes can't get away with a super sleek and super short look but for oval faces, it's the perfect look. Lob haircut ideas like this one, asymmetrical, sleek and sharp, are perfected with this beautiful beige finish, perfect in time for the spring when you don't want to go too dark and you don't want to go too light at the same time.
23. Dark Blonde Roots, Light Ends Lob
Growing out a balayage look is super easy especially if you have gone from dark at the top to light at the bottom. The darker hair on top will help to cover your darker roots giving you the option to leave it a few more weeks between appointments at the hair salon.
As your roots grow through, it'll just add another layer to your balayage, ombre look and you could even consider letting all the color grow out of your hair naturally this way, just having a trim and no coloring for a while to give it a good break. It's perfect for that in-between season from winter to summer. You want loose, easy locks for spring but you want to give it a break and hydrate it before the heat of the summer.
24. Lob Style for Brunettes
A deep side parting adds instant glam to any look and Katie Mara, House of Cards actress, was a firm fan of this look rocking a deep parting with a great brown to blonde ombre color.
It's a lot longer than your average lob look but this just goes to show how great it looks as you're growing it out. It'll start out as a bob perhaps before evolving into a lob and as it grows back into longer hair again, this cool, fresh and fabulous look is what you get. As you can see, there are dark roots again so this is perfect if you're growing-out.
25. Khloe Kardashian Lob
If it's good enough for Khloe Kardashian, it's good enough for us. If you're bored of those hair extensions and fancy giving your scalp a breather for a few days, the long bob is definitely a great way of doing it.
Those fabulous blonde highlights really are #hairgoals and we won't lie, we can't get enough of the super sleek finish. You know you're doing it right if the Kardashian's give it a thumbs up… Just saying.
26. Lob with Face Framing Layers
Are you growing out shorter bangs? Many women wouldn't combine a lob with a bang grow-out style but why not kill two birds with one stone by rocking this lob with face framing layers?
Once you reach that awkward bangs stage of about nose-length, don't give up in frustration and get them cut back in again because they're annoying you so much. Many of us here at StayGlam are guilty of this behaviour but when they reach this length, you have the perfect opportunity to make great use of them and add some great and flattering face-framing layers into the mix.
27. Curly Blonde Lob
Effortlessly glam, you can achieve this curly blonde lob look by starting your curls much closer to the roots of your hair. We would often suggest leaving the curls and waves to the ends of your hair but if you've got a killer contour going on, it would be a real shame to let it go to waste.
You can achieve this look with your hair straighteners if you can't be bothered to get your curling tongs out. Just flick it out – there are plenty of YouTube tutorials to follow. We love trying them all out!
28. Elegant, Layered Lob Style
With even the likes of Taylor Swift jumping on the lob haircut bandwagon, it's definitely time for you to take a closer look at lob haircut ideas. Give the hair a good cut just in time for the warmer, spring weather perhaps?
We love this elegant design and you can rock the same style by using heated rollers rather than your hair straighteners or curling tongs. Plenty of volume keeps it nice and soft and those elegant waves give it a really classy and romantic edge. You could throw those heated rollers in as you are getting ready, release them free as you're about to leave the house and give them a quick spray with some hairspray to keep it all in check. It really is a five minute hairstyle.
29. Beige Blonde Balayage Lob
If you want a cute look with an edge but can't really experiment too much with color or design, why not look at this beautiful beige blonde balayage lob.
Rather than the softer, lighter edges, the ends of this look have been left relatively blunt with snips cut in for good measure. Just because you can't have an edgy color doesn't mean you can't rock an edgy design and we love this look for that!
30. Dark Brown Blunt Lob with Bangs
If you do have fine hair, don't pull the lob limp and straight to the side of your face because this will zap the design of any style it had. Instead, think tousled waves and easy curls. Nothing too structured or straight.
This look works with the bangs and the straight layers because there has still been volume infused. Blow dry your hair upside down and don't use your hair straighteners at the root to achieve this look. You could also try heated rollers to give you some oomph at the root too. Let your hair be scruffy and a little mussed up from time to time. It's good for it.
31. Soft A-Lined Blonde Lob
We love this casual chic look and as far as lob haircut ideas go, this soft A-lined blonde lob is definitely one to think about. It's a beautiful summery color, perfect for the warmer weather coming ahead, and the longer length at the front compliments the almost-shoulder-length at the back giving you enough length to still tie it up into a ponytail if you wanted to.
There's plenty of layers at the ends here just like we keep suggesting. It really helps to soften the look especially if you're going much shorter than you're used to.
There are so many ways to wear this season's hottest trend and we hope we've given you enough inspiration and lob haircut ideas for you to try and experiment with. It's so versatile because you can wear it a hundred different ways and more, waving it up for casual, romantic looks and straightening things out for a sleeker, sharper approach. Add bangs, fake bangs, mix in curls, play with color… There are so many things you can do to spice up your 'do so what are you waiting for?