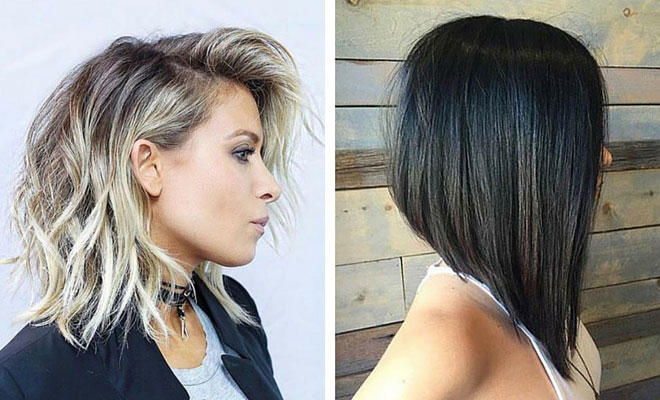 Instagram
Beauty
31 Lob Haircut Ideas for Trendy Women
By
|
11. Curly Hair Lob + Bangs
Curly hair is a brave look especially when you have a shorter length to work with. By creating a 'parting' of sorts more towards the centre of your head than the front, you can create the 'faux' bang look like you can see here. In fact, when it comes to bangs, we think faking it is the way forward. They are a very brave look to commit to and if you don't like them, you're stuck with the growing-out time before you can do anything about it.
It's always a very good idea to have a chat with your hairstylist before you decide on any lob haircut ideas. You need to find the right look that matches your skin tone as well as the shape of your face. What about maintenance levels also? If your hair is very high maintenance and needs lots of work yet you're a woman with very little time on her hands, you're not going to be happy with it for long.
12. Black Asymmetrical Lob
There are plenty of ways in which you can liven up lob haircuts and just by playing around with texture, shape and color, you could achieve a whole host of different effects. Beyonce went for a look that was equal parts ombre and beachy while actress January Jones opted for something more wavy and side-swept.
We're obsessed with this black asymmetrical lob, a brave and bold look but one that can be super flattering when worn the right way too! An off-center parting is flattering on most face shapes, and the length at the front also proves to be a very flattering touch too, especially if you're trying to lengthen a round face.
13. Soft & Sleek Blonde Lob
Short styles work so well for your hair, especially if it is dry, over-treated, highly-colored or damaged. When you cut the bulk of the length off, just like you'll need to do with some of these lob haircut ideas, you are giving your hair a chance to grow stronger and healthier. It won't be wasting water and other nutrients on the dead areas, instead providing nutrients and hydration to the hair that needs it – the shorter length you left behind.
Seeing as the summer is coming, it might be the perfect time to finally go for the chop. Plus technically, it's still long (ish) hair so it's not too short…
14. Golden Lob with Bangs
Heart face shapes work great with these lob haircut ideas so if you have a wide forehead, wide cheekbones and a thinner jaw, opt for a look that has plenty of those light layers towards the end.
Try to avoid too many layers towards the top of your hair because the longer length will quickly cause it to look like a triangle. You don't want to go for the 'helmet' look so keep the layer towards the bottom of the style instead.
15. Blonde Lob with Layers
Lob haircut ideas are a great selection to look at if you want to give your hair a break and go for something shorter and easier to maintain. With long hair, you often have the opportunity to play around a lot more and this means more products and heated styling tools as well as bleaching, coloring, etc. Cut the dead ends off and opt for something shorter than you usually would.
The right lob look will perfectly complement a round face and won't make it look even rounder. You should aim for a collarbone length which helps to make the neck appear longer, and shorter, harsher, straighter cuts can help to add balance.
16. Sandy Blonde Lob + Romantic Waves
Round faced girls are often petrified at the very thought of cutting their hair short because shorter styles often mean the face appears rounder, quite the opposite of what you're trying to achieve.
Try to avoid too much volume at the roots because this will cause your wide forehead to look even wider and keeping things sleeker at the top and bouncier at the bottom will help to even things out especially if you got a cut that falls just below the chin and further down.
17. Honey Blonde Lob with Long Side Bangs
If you're having your lob cut for the first time, you should definitely get it cut whilst in a centre-parting. By doing this, you can play around a lot more than what you would get to do if you had it styled and cut with a side-parting.
You can easily fake an asymmetrical lob style by flicking things over and have a deep parting, and you can achieve the fake side-swept bang look by doing this too.
18. Messy Layered Lob
If you've got an oval face, rock it! Wear plenty of layers and go for a look you haven't worn before. If you've always had long hair (which can make an oval face appear much longer), or you've always gone for a one-length cut, experiment a little with length, style and design.
Your stylist will help you come to an agreement on the kind of look you're aiming for, and by having photos of looks you already like and would like to try will give them a better understanding of what to do when they start cutting.
19. Voluminous A-Lined Lob
If you have a square shaped face, the best lob haircut ideas for you will be ones that have plenty of layered in the design, especially framing the face. The more textured the look, the softer it will make your face appear.
If you have thicker hair, you can still rock lob haircut ideas but you just need to use slightly different tools. A razor or thinning shears will be your best friend at the hair salon so don't be afraid to let your stylist go a little crazy with it. The look will be strong but casual and relaxed, 'lived-in' almost.
20. Black Blunt Lob with Bangs
It's a super strong look for a super fierce woman but this black blunt lob with bangs is something else don't you think? If you have an oval face shape, you can rock anything so why aren't you rocking it?
They're blunt bangs but not too blunt, left just wispy enough to take the edge off. And there are some really light and subtle layers around the ends of the hair too. You see, we keep telling you about them because they're a great idea!