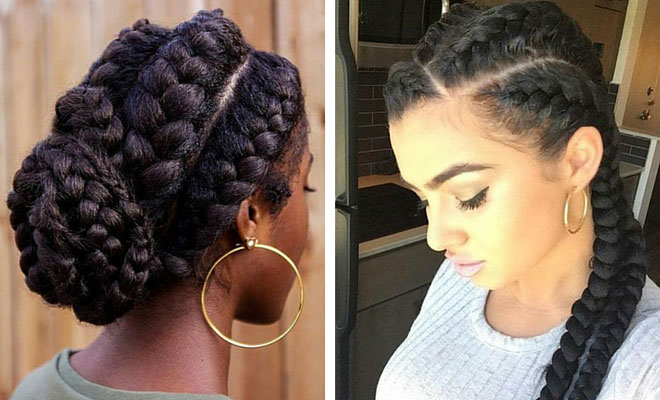 Instagram
Beauty
51 Goddess Braids Hairstyles for Black Women
By
|
41. Glam Goddess Braids
Want a glam hairstyle? Then this is for you. Here we have box braids that have been styled into a side part and finished off with accessories. It is a fierce style that demands attention. There are also some dark red braids which look gorgeous! You can try and recreate this look with or without the red braids, try to keep the accessories though.
42.  Purple Goddess Braids
Brighten up your look and be bold with braids like these! These goddess braids are a pretty and light purple shade. There is also added curly hair and accessories too. This is such a funky and fun look. It would be the perfect choice for someone who is bored with their hair and wants a change. Try purple like this one or opt for lighter or darker purple.
43. Stylish Locs with Curly Brown Ends
Next, we have a pretty loc hairstyle. The locs are long and feature beautiful curls on the ends. It is a simple and easy to wear style that will keep you looking chic for any occasion. A hairstyle like this looks effortlessly stunning and will suit everyone.
44. Red Goddess Box Braids
Love the red braided looks? Then this hair idea is for you. Here we have beautiful red braids with curled ends. This red is a little darker and more toned down than the one we featured earlier but as you can see, it looks gorgeous. Red will suit anyone with any braids and any braid length.
45. Long Goddess Faux Locs
An easy way to glam up your hair is by styling it on the side. This next idea features locs and curls that have been swept to one side. As you can see, this gives the hair a stylish and beautiful look. You can style any long braids and locs this way.
46. Crochet Goddess Box Braids
Next, we have an elegant braided look to show you. The braids have a side part and each braid is neat and sleek. There is also long curly hair, too. This is a glam hairstyle and it will make you look chic no matter the occasion whether you are going to work or a night out.
47. Crochet Goddess Locs
Look like a goddess with our next hair idea. Here we have beautiful curly locs. We have featured sleek and straight locs and now it is time for curly ones. These locs are very long and are loosely curled. Hair like this would be a great choice if you have a special event coming up and need hair that will wow.
48. Big Goddess Braids
Our next hair idea is just amazing! Here we have braids that are styled into a cool swirl design. This is more than a hairstyle, it looks like a work of art. Hair like this is perfect for anyone who wants a unique look that stands out from the rest. These braids will look gorgeous in a color like red too.
49. Long Goddess Twists
Next, we have a trendy twist hairstyle. The hair is super long and features beautiful twists. Twists are easy to wear and will suit everyone. Choose twists like these for a chic everyday look or you can create a bolder hairstyle by choosing a different color. Either way, your hair will look amazing.
50. Accessorized Goddess Locs
Looking for a glam and accessorized hairstyle? Then check out our next idea. These goddess locs are worn on one side and are accessorized with gold cuffs and more. It is a gorgeous hairstyle that will make you look like a goddess for any occasion.
51. Black Box Braids with Copper Curls
Another cool way to jazz up your braids is with color and curls. Here we have sleek box braids with copper curls at the bottom. It results in a unique ombre style. This is a trendsetting idea and you can recreate it with any color curls.
And there you have them, the 51 goddess braids hairstyles you definitely need to think about for the up and coming seasons. Versatile, cool, fresh and fierce, what more could you possibly ask for?