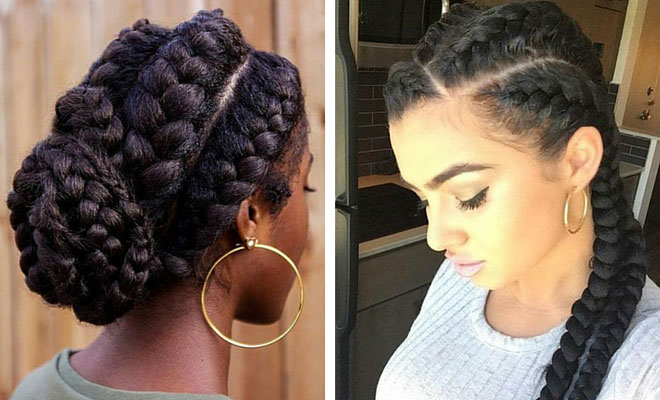 Instagram
Beauty
51 Goddess Braids Hairstyles for Black Women
By
|
31. Two Goddess Plaits Style
Two plaits reminds us so much of our childhood so if you want a spring and summer hair 'do that'll be nostalgic for all the right reasons, you should check out this two goddess plait style, perfect for all that running around looking cute you fancy doing. Just remember to accessorise well with a pair of fabulous earrings, and keep your look in check with plenty of conditioner and oil.
32. Boho, Blonde Goddess Box Braids
Give your hair a summery, boho look with braids like these. The hair has been braided with multi tones of light and warm blonde. There are also curls at the end and some pretty accessories added too. This will be an amazing braided look for the summer and it will look super cool at other events like festivals, too.
33. Red Goddess Box Braids
Next, we have a bright and bold hair idea to show you. Here we have braids and curls in a beautiful, vibrant red tone. This red color is stunning and will stylishly transform your hair. You can try a similar red shade with a similar style or use the red on any braids of your choice.
34. Half-Up, Half-Down Braids
Looking for a trendy and cute way to style your braids? Then check out this next look. This hairstyle features gorgeous braids and curls where half have been tied up and the other half left loose. It is a pretty hairstyle that will suit anyone. You can have a hairstyle like this with any braids.
35. Long Goddess Locs
Our next idea features goddess locs with curly ends. Goddess locs are stunning and will give you a glam look every day. We love the added curls on the ends as it just gives the locs a stylish finishing touch. This is a beautiful hairstyle that will suit everyone. We love it!
36. Trendy 4 Goddess Braids
Next, we have edgy and trendy braids. The hair has been separated to create multiple braids resulting in a super cool look. You can recreate this hairstyle or try similar braids that are thinner so there are more of them. A funky color would look awesome too.
37. Crochet Goddess Locs
If you love the locs with curls, then you need to check out this hair idea. Here we have long locs with curly ends. The locs have been finished off with beautiful accessories. You can see that by adding accessories you get a stylish and unique look. Add beads, cuffs and more to make your hair stand out from the rest.
38. 4 Thick Goddess Braids + Thin Braids
Another way that you can make your hair look unique is by adding different thicknesses. This hairstyle is a great example. The hair has been braided into four thick braids and three thinner ones. This combo is super stylish. You can try this idea or come up with your own pattern and design.
39. Beautiful Goddess Locs with Curls
Our next idea is another loc look. For this idea the are beautiful locs surrounding by gorgeous curls. We love this one because the curls have been added to the ends but there is also curly hair around the locs, too. It is a pretty hair idea that will glam up your look every day!
40. Triangle Goddess Box Braids
Next, we have an accessorized braid idea. The hair has been put into very long braids and has been finished off beads and cords. It is a gorgeous braided hairstyle and will give everyone hair envy. Try and recreate the look or choose different beads and accessories to express your personal style.