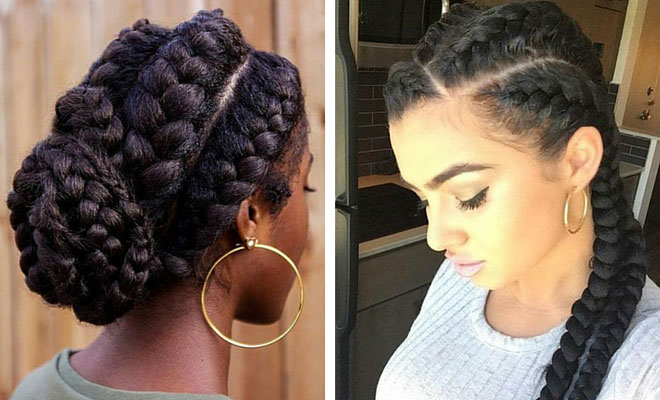 Instagram
Beauty
51 Goddess Braids Hairstyles for Black Women
By
|
11. Two Toned Goddess Braids
A look that screams fierce both up and down, there's something about this two-toned goddess braids look that we LOVE, LOVE, LOVE! There's so many shades of blonde and almost silver in the lighter shades here, and when those bright hues are twisted into those goddess braids, every element of the color shines through. Plus – gold hair, gold jewelry, it all matches and we all love that!
12. Braided Chignon
The good news about afro hair is that it doesn't need washing quite as regularly as other hair but that's not to say you can braid it and leave it – there is still some maintenance to be undergone. If you wash more regularly than every week or two, you may find that your hair starts to lose its moisture so before having these goddess braid hairstyles put in, ensure that you give your hair a good break first.
13. Red Braids
If you thought the blue and purple looked great, and you fell in love with the dirty blonde goddess braids, you're going to have a fit when you see this look – stunning, beautiful, sexy red braids. It's like Jessica Rabbit got fierce and you know she'd love these red goddess braids if she ever sat down with a decent stylist. What do you think – would you rock red braids? We love them but what about you?
14. High Bun
Although considered to be 'protective styling' in the sense that the hairstyles themselves help to protect your hair (as long as you do), there is some work necessary to ensure you don't cause any damage when you switch between looks or have your braids taken out. When you first brush or style your hair after your braids have been taken out, don't worry too much. Generally you'll lose about 200 strands of hair per day so when you count that up over the weeks you've had your hair in your newest cool design, you can expect a lot of 'shedding'.
15. Edges on Fleek!
If you're going to go sharp, you might as well go full sharp and while you're there, what about you fall in love with those curly tendrils on the side like we have. There are always those baby strands that don't do as their told so why not make a little feature out of them? It looks great here!
16. Goddess Braids into a High Ponytail
A high pony is always in style and you can still achieve that high look with goddess braids if you have them done the right way. Ask your stylist to wind your beautiful new goddess braids around so you can flick them back into a high pony. Secure everything with a band, and even dress it up with a scarf or flower, and you have a look that's perfect for the up and coming summer heat and humidity.
17. Pop of Purple
When you think of playing around with color, you often think of something bright, bold and bolshy but as you can see from these goddess braid hairstyles, playing with color doesn't need to mean quite that. This pop of purple is barely-there but still adds a little something new to the look. The colors will be more noticeable the more you twist and braid your hair so it's down to you how obvious or noticeable you want it to be.
18. Two Goddess Braids Style
There are a number of home remedies out there you can use to rehydrate and repositories dry and damaged as well as over-styled hair. Before you look at goddess braids hairstyles for black women, why not look at what castor oil or coconut oil can do for your hair. Even for just a few minutes when used in a nourishing hair mask, these ingredients could boost the strength of your hair and even improve the skin on your scalp too.
19. Inward Goddess Braids
Rather than looking at creating your goddess braids so that they run from the front of your head to the back, why not twirl them around instead, creating this inward goddess braid look that's definitely different, unique and beautiful? There's no end to the ways you can twirl those braids around, and you can even use it to work in your advantage, playing up the parts of your head/face you like and hiding up those you don't!
20. Five Goddess Plaits
Goddess braids hairstyles are good for both long and short styles and to achieve the look, there are a number of tutorial online you could follow. The easiest way to complete this stunning braid style is to deep part and then crown part your hair when it was washed a couple of days ago, before braiding and criss-crossing the braids around. It's given the name halo crown for a reason! Make yours into a halo, regardless of how many plaits you like!