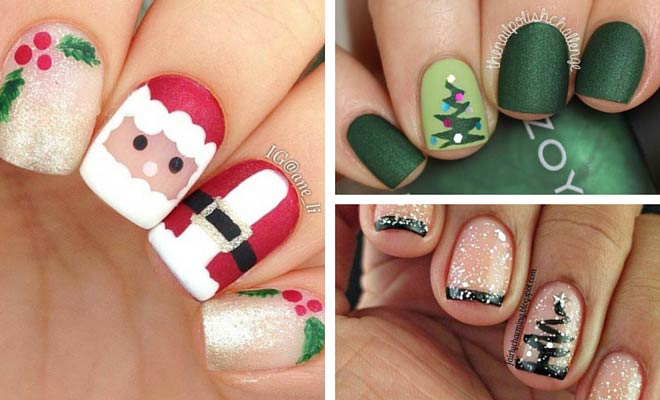 Instagram
Beauty
81 Christmas Nail Art Designs & Ideas for 2020
By
|
11. Matte Christmas Manicure
If I could give you one nail tip for this season, it would be to buy a bottle of a matte nail polish. You can apply it over any glossy color to achieve the matte effect you can spot here, giving you at least two ways to wear every single bottle of nail polish you own. Alternatively, you could opt for matte nail polishes just like this one which just so happens to be perfect for Christmas!
12. Santa Manicure
Even short nails need a festive revamp from time to time and if you have shorter nails rather than longer ones, you should try something cute and simple like these Santa nails. Easy to achieve on both fingers and toes, it's a classic way to remind yourself it's Christmas!
13. Red & White Snowflake Nails
If you want a super-sharp finish, you need to forget about using Q-Tips to clean up those edges. A quick slick of petroleum jelly around the nail will help wash off any color that gets on your skin, and an old (or new) lip brush dipped in nail polish remover is the easiest way to mop up any accidents.
14. Candy Cane & Christmas Tree Design
Embellishments are an easy and simple way to revamp any nail design and when it comes to Christmas nails, that's definitely true. These nails would be simple and almost bland without the gold additions, but with the help of some nail glue and a few shiny extras, you have 3D nails that are bound to make an impact.
15. Santa's Hat Nail Design
Rounded nails are a beautifully classic nails and this Santa Claus inspired look gives you just one way to wear them. Treat each tip like a Santa's hat and once again, add that glitter to the feature nail, and you have a look that is classical stunning, and pretty festive too!
16. Perfect Festive Design
You've got Christmas trees, there's glitter, even a few baubles! These are perfect Christmas nails if you can't make up your mind which look you want to go for. It's blingy enough to stand out but at the same time, still relatively understated so it doesn't look like Christmas overload.
17. Pink Christmas Nails
If you want a look that will last the entire festive season, go with glitter. Glitter is renowned for being a real pain to get rid of and often needs a lot of going over with a remover-pad. If you want something that won't easily look chipped, or will just longer than a few days before getting smudged, a glitter top coat or finish is the way forward.
18. Cute Reindeer Design
With a white backdrop, there's no Christmassy look you can't achieve. This reindeer is a simple enough addition once you realise it's all just circles of color, and you could even carry the look on to each nail either side if you want something more than just one feature nail.
19. Simple & Elegant Nails
In order to get a clean, smooth finish like these beautiful nude Christmas inspired nails, you need to be prepared to be patient. Quick dry polish might help you get the look quicker but these can actually be quite bad for your nails. They typically dehydrate them and over time, this can lead to an uneven nail bed. When you have an uneven nail bed, looks like this won't be easily achieved unless you want to look at falsies.
20. Pink & Sparkly Nails
Who said pink wasn't a christmassy colour? With the right mixture of textured glitter and the odd bauble / pink bow, this is a look that could be created for any number of colors including peach, blue, and many other pastel shades.