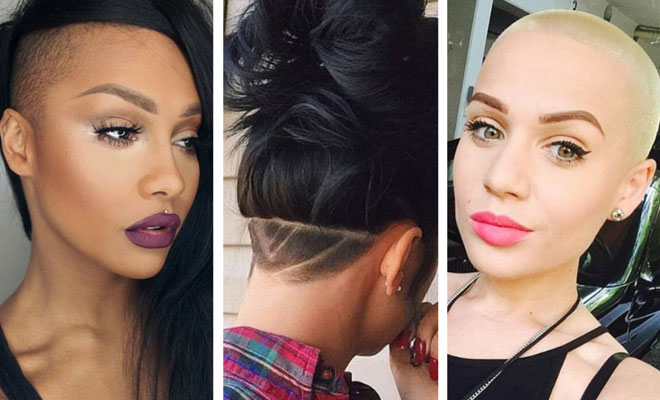 Beauty
23 Most Badass Shaved Hairstyles for Women
By
|
13. Shaved Blonde Hairstyle
Channel your inner Amber Rose with this shaved blonde hairstyle. You can dye it bright blonde, just like Amber, or rock your natural hair color. If you opt for this style, you're one brave and bold woman!
14. Long Hair Undercut with Design
Shaved hairstyles don't have to be scary. This cool style can be your little secret since you can always hide it with a help of your longer tresses. Follow the example and emphasize your undercut with an interesting design.
15. Short Blonde Cut + Side Bangs
This blonde hairstyle shows how elegant and classy undercuts can look. The style might be too extravagant for some women but we absolutely adore it!
16. Natural Hair Bun + Shaved Side
A shaved patch can add a touch of edginess to your natural updo. The best part about shaved hairstyles is that once you shave your side at the hair salon, you can easily touch it up at home with an electric trimmer.
17. Purple Highlights Mohawk
A shaved patch and some bold color can add a touch of unique elegance and fierceness to the entire look. You can put your own spin on the look and experiment with different hair colors and lengths.
18. Colorful Mohawk with Black Sides
Short, colorful hairstyle with shaved sides is definitely an edgy statement that is incredibly chic, cool and low-maintenance. This hair color looks great with dark skin tone.
19. Braided Blonde Mohawk
We know this style isn't for everyone, but we applaud anyone who opt for such a drastic chop. The top part of the hair can be braided, curled or straightened. The styling possibilities are endless, although it doesn't seem so.
20. Long Straight Hair with Undercut
Shaved hairstyles don't always have to be hardcore. You can try this trend with a neckline undercut. This style is edgy and stylish yet you don't have to shave all of your hair off.
21. Protective Style Bun + Half Shaved Head
Add an extra "wow" to your undercut with some interesting lines and designs.
22. Short Blonde Hair + Half Shaved Head
In order to rock this short blonde style, you'll need to be confident and bold. Are you?
23. Long Curly Hair + Shaved Side
If we still haven't convinced you to take the risk and shave at least one side of your head, there's a big chance you'll want to do it immediately after seeing this breathtaking style.