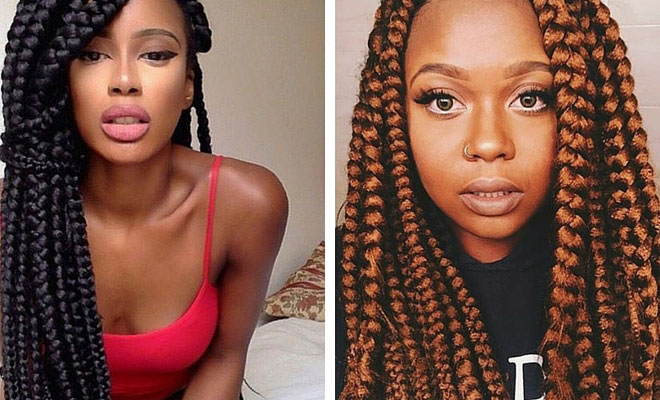 Beauty
61 Best Jumbo Box Braids Hairstyles
By
|
11. Burgundy Style
Because… Why not? This look is beautiful and you could even match your lipstick to your hair! Remember you will need to reconsider your regular eyebrow pencil shade if you're changing quite dramatically. Jet black eyebrows might not work with this burgundy, red look for example.
12. Grey Style
If you thought you couldn't do the silver/grey colour that everyone's raving about this year just because you have box braids, you're wrong. This look is absolutely beautiful and we're all in love with it. Ask your stylist to give you a metallic silvery-grey (or show them this picture) and enjoy your shimmery finish. It might take a while to achieve this look if you have darker box braids to start with so don't think this is something you can do in a quick hour.
13. Cool Half Updo
Such a cool look and it would be perfect to wear with flowers in your hair for the summer! Twist back the box braids that would frame your face and, if you have the length, twist them into the chignon-style bun you can see towards the back of the head. Again, secure in place and maybe think about adding some hair cuffs?
14. Jumbo Box Braids into a Ponytail
Scarves are a great way to add some spice to a look that would otherwise be quite every-day. Pull your box braids back into a high ponytail and when you're done, wrap your prettiest, silkiest headscarf around the base before tying into place. Add some bobby pins to make sure it doesn't move, and add some finishing-touch earrings and away you go. Simple yet stunning. What more could you ask for?
15. Elegant Half Updo
Sometimes the occasion calls for a little bit of elegance and what better than this elegant half up-do? You get to show off the beautiful length of hair while still adding a twist to the look. Simply twirl back your jumbo box braids and tuck them under themselves, or move them around to create a loop, before securing in place with bobby pins. You could easily add hair accessories or hair jewellery to this look but if you're wearing big, showy earrings, it might be wise to leave them out. You don't want your hair to steal all your focus, do you?
16. Light Brown Braids into a Half-Up Bun
Another beautifully fierce look but with a slightly different edge, you have both a bun and long locks with this box braid hair design, perfect for showing off your on-fleek makeup today! Take the box braids just from the very top of your head just as you can see here before twisting into a bun, as high as you like. Leave the rest down and add cuffs if you like but honestly, we don't this look needs anything else.
17. Caramel Brown Style
You like to eat caramel so why not rock caramel coloured box braids? It's a little something different from brown or blonde, almost combining the two together. If you can't make up your mind or just want a slightly different look for a big occasion, give it a whirl.
18. Side Swept Style
Sweeping the box braids from one side to the other with a deep-parting is a great way of creating faux-bangs. Just use some of your braids to tie around the mass of hair, acting as a hairband. It's a great 'I can't be bothered look' because it still looks stunning.
19. Light Brown Style + Red Lips
For when you have makeup so on point, you don't need anything else, leave your hair nice and natural. Take it back away from your face and let it do its thing. With big red lips like this, who needs the distraction anyway?
20. Black Jumbo Box Braids
Black is always in fashion so team your little black dress with big black box braids! Remember you will need to switch up your makeup routine if you've gone from a light blonde to a jet black. It can make you look a little washed out so you may need to up your foundation-game.