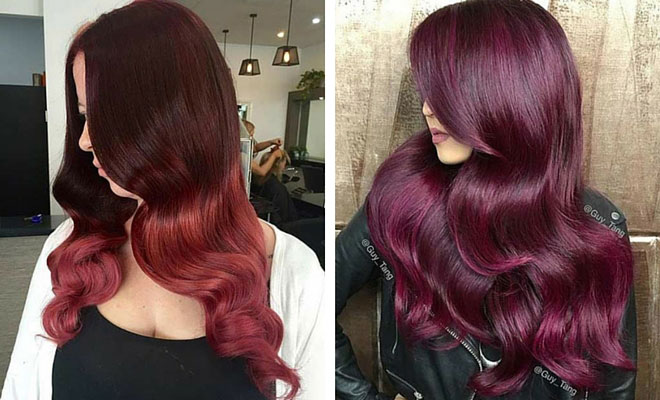 Beauty
41 Amazing Dark Red Hair Color Ideas
By
|
11. Cherry Ripe
Audrey Hepburn loved her glossy red locks and she was actually given the nickname 'Red' by fellow co-star, Cary Grant, in The Philadelphia Story. If you want to make like the classic movie star and check out some new dark red hair color ideas for yourself, consider a dark cherry color to begin with. It's a look considered to be very flattering on most skin types and tones and is also a relatively easy one to take care of. Brighter colors will need more re-touching than this beautiful dark red shade.
12. Bright Red to Dark Red Hair Color
With ombre hair styles, you normally find that the hair goes from dark at the root to light on the ends but there's nothing wrong with reversing it from time to time to create a look that's definitely bold and brave. That's the thing about these lush color combinations – there's no end to ways you can play around with them. There are so many shades of dark red that you can mix them all together to create a gradient effect like this, or just go for multi-toned to give the impression of 'one color' but with a bit of added depth.
13. Ruby Red Hair + Soft Waves
It is estimated that only one or two percent of the entire popular of the world has red hair which is what perhaps make it so desirable. Apparently, 40% of the population also carry the 'hidden ginger' gene, meaning that they contain the genetic mutation responsible for making the hair color happen. If you want the most natural of dark red shades, you should aim for more copper or strawberry-blonde tones than purple, burgundy ones. Natural red hair is more copper than red anyway.
14. Lob + Dark Red Highlights
Red hair is meant to be vibrant, beautiful and amazing to look at and if yours isn't, you just haven't found the right shade yet. There are plenty to pick from so there is definitely going to be one out there for you. Sometimes you just need to take the time to do some research, chat with a stylist and figure out what would work best for your face shape and skin tone with regards to both cut and color.
15. Dark Red Natural Hair
If you want to go a really bright color like this stunning red shade, you must be prepared for the work necessary before, during and after your hair appointment. Before the bleaching you'll need to ensure your hair is in good condition to start with. Afterwards you'll need regular conditioning treatments if your hair has been bleached or lightened as this will damage it and you need to also remember that heated styling tools need to be used minimally for a while to give your hair a break too.
16. Dark Red Hair + Copper Highlights
If you have green or blue eyes, you should definitely go for more copper tones with your dark red hair color ideas. These will appear the most natural and soft against your natural skin tone, especially if you are of a more mature age. The bright nature of these dark red shades means that the eyes will be drawn to them, irrespective of how dark you try to go. This is why the red haired look is often confused for a 'younger person's hairstyle' but the good news is, the darker you go, the more flattering the hair will be and there are plenty of ways to play around with red shades too.
17. Dark Red to Caramel Ombre Hair
Burgundy or dark red hair color ideas like this are considered to be a very stylish look but that doesn't mean you can't liven it up a little and just one way of putting your own stamp on the look is to achieve some subtle highlights, in this case, subtle caramel blonde, almost bronde, highlights. The blonde adds another level of depth to the 'do, giving you the impression of having luscious, thick locks even when you don't. Layers can also help to thicken, and heated rollers are also an effective tool. More volume equals more thickness after all.
18. Dark Roots + Bright Red Ends
Your hair doesn't need to be super long in order to create a beautiful design out of it as many of these dark red hair color ideas show you. This is a medium to long length cut but it will look longer because the bright red ends and highlights help to elongate the look with their handprinted, almost balayage design. This look isn't about perfection as such, it's bespoke to each and every style. More color here and there, or perhaps a little less, but you are in complete control. Well, you and your hairstylist of course.
19. Deep Burgundy Hair
The redhead look has been in fashion for many years and we all forget that little old Dorothy from The Wizard of Oz was one of our favorite ever redheads, rocking the lock with pigtails and ringlets. These days the look is a little more sophisticated than that as you can see from the beautiful ringlet-waves you can see in this dark red hair with the slightly lighter and darker shades of red shining through here and there.
20. Burgundy to Bright Red Ombre
We are positively in love with this beautiful matte red, almost dusky pink-red, color, coming down through the gradient of dark red / burgundy to the lightest hues at the bottom. Keeping the curls to the bottom of your hair is great to achieve this look. You can still keep things nice and sleek around the face and at the top if you want to, making it one of the most flattering ways to wear any hair color but especially these dark red hair color ideas.