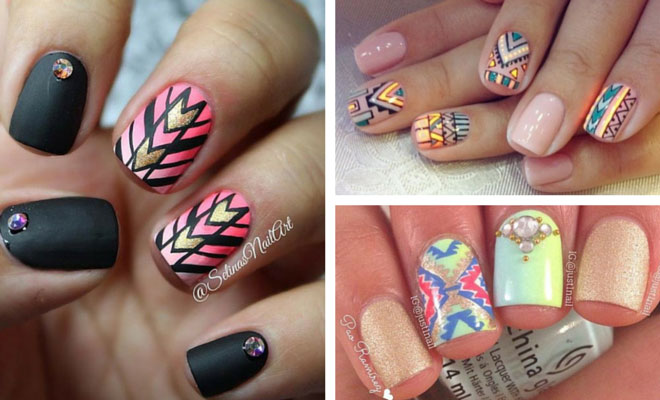 Beauty
19 Tribal Inspired Nail Art Designs
By
|
11. Matte Pink and Black Design
Matte top coat can add a more interesting look to a simple tribal design. Who would have thought that matte finish and tribal pattern would actually work together? If you love matte nails, make sure to check our other article about this stunning nail trend.
12. Turquoise and Gold Design
If you love the tribal nail trend, you'll definitely want to re-create this lovely design. The design isn't detailed as some others, which means you can have your tribal nails in under 15 minutes.
13. Summer Tribal Design
Do you often find it hard to come up with some decent patterns and designs while doing your nails? The struggle is real. Luckily, there are some amazing tribal designs like this one, to inspire your creativity. This design is perfect to show off your summer style.
14. Tribal Accent Nail
For a twist on a classic nude-colored nails, we recommend this nail design with tribal accent nails. The design isn't time-consuming since you only have to doodle two nails. If you ever get bored of your simple nude nails, make sure to give this design a try!
15. Lime Green Design
The best part about tribal inspired nail designs is that there are no rules!  Hurray! Since a lime green color isn't for everyone, you can try to re-create the look with pink or purple polish. It may look even better!
16. Orange, Nude & Turquoise Design
Here's another cute design with only one tribal nail. We are amazed how all of the colors come together. Who would think of matching orange, nude, black and turquoise together, right? Love it!
17. Tribal Nails + Pink Accent Nail
If you have shaky hands, it would be best to skip this design. We love how this design features a bright and simple accent nail while the other nails are tribal. It's usually the other way around.
18. Light Pink & Grey Design
Tribal nail design looks so good when each nail has a different pattern. We love everything about this mani and we'll make sure to re-create it as soon as possible.
19. Girly Pink and Blue Tribal Design
Have some fun this afternoon and adorn you accent nails with some blue tribal patterns.