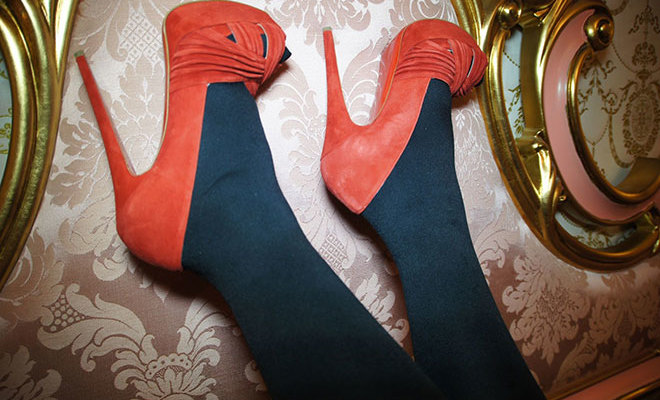 www.verylux.de
Beauty
12 Most Expensive Women's Shoes in the World
By
|
The women's shoes have always been an object of fascination. Shoes make women feel beautiful and sexy. Some women are willing (and lucky enough) to spend fortunes to be properly shod.
You thought Louboutins were expensive? But even at nearly $2,500, Louboutin shoes didn't manage to make our list of the most expensive shoes in the world. So, what did?
#12: The House of Borgezie Shoes
The shoes are made entirely from solid gold and more than 2,200 brilliant cut diamonds (30 carats). Creator Christopher Michael Shellis, a British jewelry designer, has spent 3 years working on the creation. The House of Borgezie even offers an 'eternity' guarantee lasting 1,000 years. With these shoes on your feet, you don't need any additional jewelry.
Price tag: $223,430
#11: Kathryn Wilson's Pumps
Shoe designer, Kathryn Wilson, created a pair of pumps that cost around $418,450. Yes, you read it right. Why are they so expensive? The heels are covered in 21.18 carats of diamonds. Also, around 50 hours of manual labor was put into them. The designer applied diamonds by hand. These statement shoes raised about a half million dollars for the nonprofit.
Price tag: $418,450
#10: Stuart Weitzman's Diamond Dream Stilettos
These silver shoes are adorned with 30 carat's worth of Kwiat diamonds and they worth $500,000. In 2007, the stilettos made its debut – actress Anika Noni wore them during the Academy Awards. She admitted she wanted to wear them because they are very comfortable.
Price tag: $500,000
#9: Slippers from the Film 'The Wizard of Oz'
If you've ever watched The Wizard of Oz (1939) then you must remember red slippers worn by Dorothy Gale (Judy Garland). This pair of shoes was sold at auction in 2000 for gigantic sum of $666,000. The shoes are made from red silk faille and overlaid with sequins. They entered The Guinness Book of World Records as the most expensive shoes from a film sold at auction.
Price tag: $666,000
#8: Stuart Weitzman's 'Retro Rose' Pumps
Another expensive shoes from Stuart Weitzman. These pumps have a retro style from the 1940s, incorporating the 'T-strap'. There are two roses placed on tops of the toes which make these shoes special. The roses are made up of 1,800 Kwiat diamonds (100 carats).
Price tag: $1,000,000
#7: Stuart Weitzman's 'Marilyn Monroe' Heels
These elegant, nude evening shoes are made of satin and glittering Swarovski crystals. This shoe is a product of intricate craftsmanship. Swarovski crystals aren's just any Swarovski crystals – they are a pair of Marilyn Monroe's earrings. In 2005, the shoes were worn by Regina King, when she was nominated for her role in the movie 'Ray'.
Price tag: $1,000,000
#6: Stuart Weitzman's 'Platinum Guild' Heels
These expensive shoes are made of platinum fabricand decorated with 464 round and pear-shaped Kwiat diamonds. What makes these shoes even more special is their flexibility – diamonds can be removed and converted to jewelry and shoes can be worn plainly. In 2002, these diamond shoes were worn by Oscar nominee Laura Harring. She was escorted to the venue with three bodyguards.
Price tag: $1,090,000
#5: Stuart Weitzman's 'Rubby Slippers'
We can notice that these shoes were inspired by another shoes from our list – The Wizard of Oz. It seems Dorothy's red shoes will never be unfashionable, even though they were designed and created in 1939. Weitzman's red shoes are made of 642 pieces of round Burma rubies.
Price tag: $1,600,000
#4: Stuart Weitzman's 'Tanzanite Heels'
These bejeweled silver stilettos are a mix of 28 carats of colorless diamonds and 185 carats of blue tanzanite stones on Italian leather. The showstopper of this silver sandal is a beautiful 16 carat pear-shaped tanzanite drop that swings over the face of the foot. These shoes will dazzle your eyes and drain your wallet.
Price tag: $2,000,000
#3: Stuart Weitzman's 'Cinderella Slippers'
Although they were inspired by Cinderella, they aren't made of glass. These sparkly slippers were made of Italian leather. The ankle and toe straps are decorated with 565 Kwiat diamonds. The right shoe hosts a rare, 5 carat amaretto diamond worth more than 1 million dollars itself. In 2004, Alison Krauss, a country singer was lucky enough to wear these princess shoes to the 2004 Oscars.
Price tag: $2,000,000
#2: Stuart Weitzman's 'Rita Hayworth' Heels
The open-toed heels were created from rust-colored satin and they are decorated with Rita Heyworth's rubies, sapphires and diamond earrings. They belong to  Rita Hayworth's daughter, Princess Yasmin Aga Khan and they are not for sale. In 2006, singer Kathleen York wore them to the Oscars.
Price tag: $3,000,000
#1: Harry Winston's 'The Ruby Slippers'
In 1989, Harry Winson's son, Robert, recreated the ruby slippers from The Wizard of Oz to pay tribute to the fiftieth anniversary  of the movie. Instead of sequins and other cheap material, Winston used 4,600 pieces of real rubies and 50 carats of diamonds. The shoes took two months to finish.
Price tag: $3,000,000