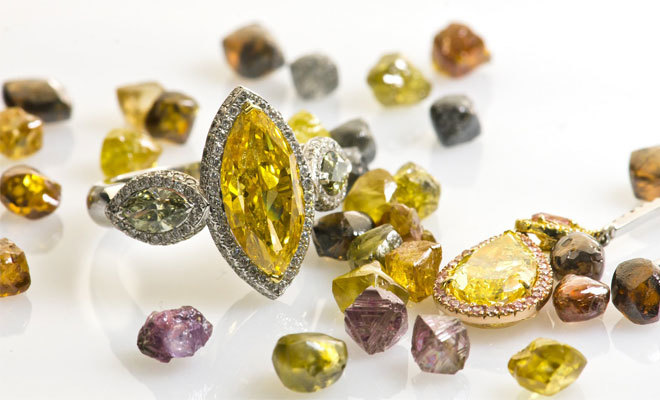 arcadedistro.com
Beauty
11 Most Expensive Jewelry Brands in the World
By
|
Famous Marilyn Monroe sang about the diamonds in 1953, calling them a girl's best friend. It's a year 2014, and we can still confirm her statement. There's something about expensive jewelry that makes people drawn to it and go totally crazy over it! Some people are able to afford a few million worth of jewelry without guilt. Where to they shop when they want to buy something so expensive? You'll find out in this article!
Here are the top 11 most prestigious names in the luxury jewelry industry:
1. Cartier
Cartier is an iconic French luxury jewelry and watch brand. Since 1847, Cartier has continuously created exceptional jewelry pieces that are appreciated worldwide for their beauty. Cartier is the most expensive and valued jewelry brand in the world. Estimated brand value is $4.91 billion.
The Cartier's pieces have been worn by some of the world's most richest and respected personalities. It's common knowledge among jewelry lovers that many important families choose Cartier jewelry. Kate Middleton worn Cartier tiara at her royal wedding with Prince William. Michelle Obama and Grace of Monaco are some of the Cartier's most loyal clients.
2. Bvlgari
The Italian jewelry maker has been supplying the high-profile families with jewelry, timepieces and accessories for generations. Bvlgari jewelry is pure luxury created by distinctive designs and innovative materials. This brand is known for its luxurios designs that often incorporate heavy metalwork and brightly colored precious gems. In 2014, Bvlgari celebrated 130 glamorous years of successful business.
Elizabeth Taylor, Ingrid Bergman and Sophia Loren were Bvlgari's most loyal customers who helped bring the Bvlgari name to the leading position. Elizabeth Taylor even wore her own Bvlgari pieces in three films.
3. Harry Winston
First Harry Winston shop was opened in 1932 in New York. Today, Harry Winston's salons can be find in key locations – including Paris, New York, London, Shanghai, Beijing, Singapore, Hong Kong, Beverly Hills and Tokyo. The 82-year-old diamond company has outfitted celebrities off and on screen for decades.
Harry Winston jewelry is a collaboration of skills and efforts – designer, gemologist and craftsman. Their $9.5 million tourmaline and diamond necklace comes with its own security details. Jewelry pieces from this luxury brand were worn on the red carpet by Elizabeth Taylor, Halle Berry, Gwyneth Paltrow, Madonna and even Marilyn Monroe. We can say that Harry Winston is a jeweler to the stars.
4. Van Cleef & Arpels
This French company was founded by Alfred Van Cleef in 1896 in Paris.The inspiration for jewelry, luxury brand derives from the surrounding nature. Their expensive pieces often feature fairies, animals, and flowers. For their white gold necklace with 9 diamond flowers, you'll need to pay $67,500.
Some of Van Cleef & Arpels iconic customers are: Barbara Hutton, Princess Soraya, The Duchess of Windsor and Princess Grace of Monaco.
5. Tiffany & Co.
Tiffany & Co. was founded in New York City by Charles L. Tiffany and John B. Young in 1837. Company has long been known for its luxury jewelry that has taste and style. They also have a unique policy – they'll clean your diamond and make sure the setting is secure, they'll allow you to exchange jewelry for something else years later and you even can examine their different stones under a microscope in a private room.
Tiffany's celebrity fans are: Doutzen Kroes, Emma Stone, Kate Hudson, Natalie Portman, Gwyneth Paltrow, Cameron Diaz and others. Jewelry in the film 'The Great Gatsby' was designed by Tiffany & Co.
6. Chopard
This Swiss-based company was founded by Louis Chopard in 1860. Famous jewelry house always makes sure that celebrities wear Chopard jewelry on the red carpet. The company is a sponsor of Cannes Film Festival so their luxurious pieces can be seen in many movies (Midnight in Paris, Diana, Elizabeth: The Golden Age and Nine).
Their jewelry features exceptional stones like sapphires, diamonds, emeralds and rubies. One collection features the world of fauna around us – leopards, butterflies and other animals.
7. Buccellati
Buccellati is an Italian most exclusive luxury jewelry brand that was founded in 1919. The company has been a Milan resident since 1919 and their jewelry is still designed by the Buccellati family. The inspiration for their luxury pieces, brand finds in Italian history – from the Roman Empire to the Renaissance. The main element of the jewelry is gold and everything is done by hand. Typical visual inspirations include leaves and plants with rich and luxury design – minimalist art isn't their cup of tea. Buccellati jewelry begins at about  $2,000 – $4,000.
8. Graff
Graff is a luxury jeweler based in London, UK. The company was founded by Laurence Graff in 1960. Today, the company is one of the most prestigious names in expensive jewelry across the world.
In 2013, Graff presented $100 million peacock brooch. This brooch features an exceptional collection of colored diamonds with the rarest blue diamond in the world in the middle of the brooch.
9. Mikimoto
In 1893, Mikimoto succeeded in creating the world's first cultured pearl. Pearls by Mikimoto are some of the finest in the world. Every pearl is a work of art so it doesn't surprise that Mikimoto's pieces are objects of desire.
Marilyn Monroe wore Mikimoto's pearl necklace in 1954. She got it from Joe DiMaggio on their honeymoon in Japan and wore it to court when she divorced him only nine months later.
10. Piaget
Piaget Jewelry was founded in 1874 in Switzerland.
The mainly used materials for this luxury jewelry are white gold, diamonds and precious stones – aquamarine, sapphires, tumarin and topaz. In 2012, Piaget launched the 'Rose Collection'. The rose has been a constant motif in Piaget's jewelry, because company founder, Yves Piaget, loved roses and they were his lifelong passion.
11. Lorraine Schwartz Jewelry
In 1989, Lorraine Schwartz took over the family jewelry business after her mother's death. Her jewelry is known for her customized and trendsetting creations. The mainly used materials are gold, precious gems and diamonds. She designs big, statement jewelry pieces that can be seen on the red carpet.
Lorraine Schwartz is a good friend of Kanye West and Kim Kardashian. She attended their wedding and designed Kim's engagement ring worth $7-$8 million. Recently, she gave the one carat diamond earrings to their baby, North West, for her first birthday. She also designed jewelry for Beyonce, Sofia Vergara, Blake Lively, Angelina Jolie, and other celebrities.